New Pattern Release! Check 1-2
Posted on
This is the Check 1-2 shawl, and it is now available to download directly from the website and Ravelry.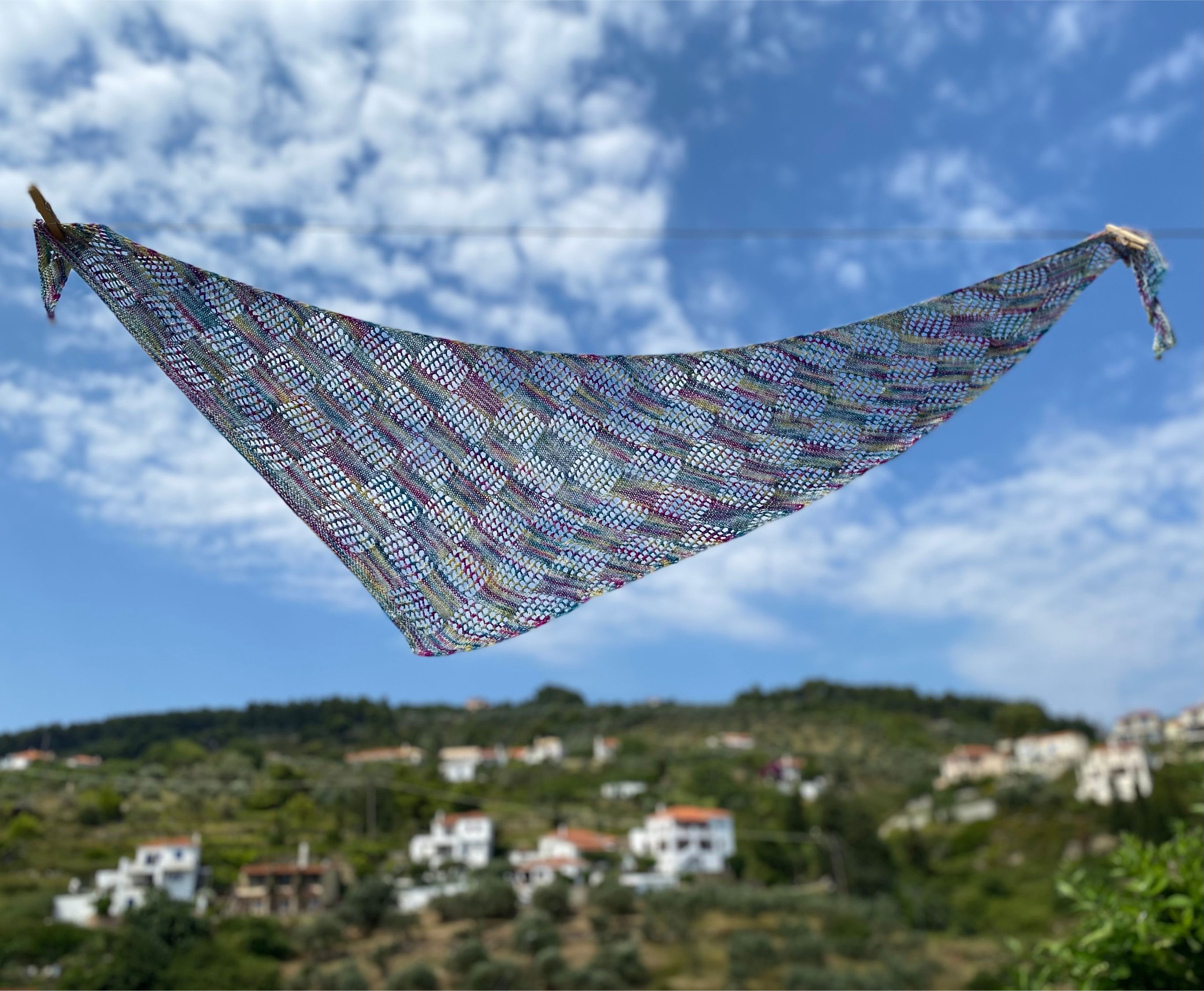 Check 1-2 is a pattern that celebrates the superstar that you are! Remember the days of singing into a hairbrush in front of the mirror and imagining being the world's greatest pop star? Ok, maybe that was just me…but what fun that was! This shawl pattern was inspired by those young, carefree days, when anything was possible and the world was a stage waiting for you to take the spotlight.
Like the name suggests, the pattern creates a sequence of checks which are made by alternating sections of 'yo, k2tog' stitches and stockinette. The design will really show off a skein of variegated yarn, creating squares of colour that fly like mini flags across the shawl.
Even if your dreams didn't take the path that your 7-year-old self thought they would, that doesn't make you any less of a star. Far from it! Every day is a chance to shine and be your brilliant self in whatever you do. So grab your needles, choose your yarn and fly your flags for the world to see!
If you are new to knitting lace, this shawl would be the perfect opportunity to give it a try. Using just yarnover and k2tog stitches to create the lace, each section is worked between markers so you can easily keep count of your stitches. A video tutorial on how to work the [yo, k2tog] stitch combination can be found here https://www.undertheolivetreeknits.com/lace-stitches.html
Want to go bigger and bolder? You can easily adapt this pattern to use 2 or even 3 skeins! Instructions on how to adapt the shawl are given in the instructions.
This pattern has been tech edited and test knitted prior to publication. A handy stitch count checklist is also provided.
Stitches Used – Sl1 wyif, knit, purl, kfb, yo, k2tog, 'yo, k2tog' lace stitches
Sizes – One size
Measurements – The finished, blocked item has a wingspan of 73" (185cm) and a depth of 20" (51cm)
Materials
• 437-464yd / 400-425m, 3.5 oz / 100g 4 ply, sock or fingering weight yarn. The yarn used in the pattern pictures is Under the Olive Tree Knits Chora sock yarn, 75% merino / 25% nylon in the Sing it Back colourway
• US size 5 (3.75mm) 32" (80cm) circular needle
• 12 stitch markers
• 1 tapestry needle for weaving in the ends
Gauge: 23 stitches and 32 rows to 4" (10cm) in stockinette stitch after blocking

Download Check 1-2 from the website
Download Check 1-2 from Ravelry
Check 1-2 Kits!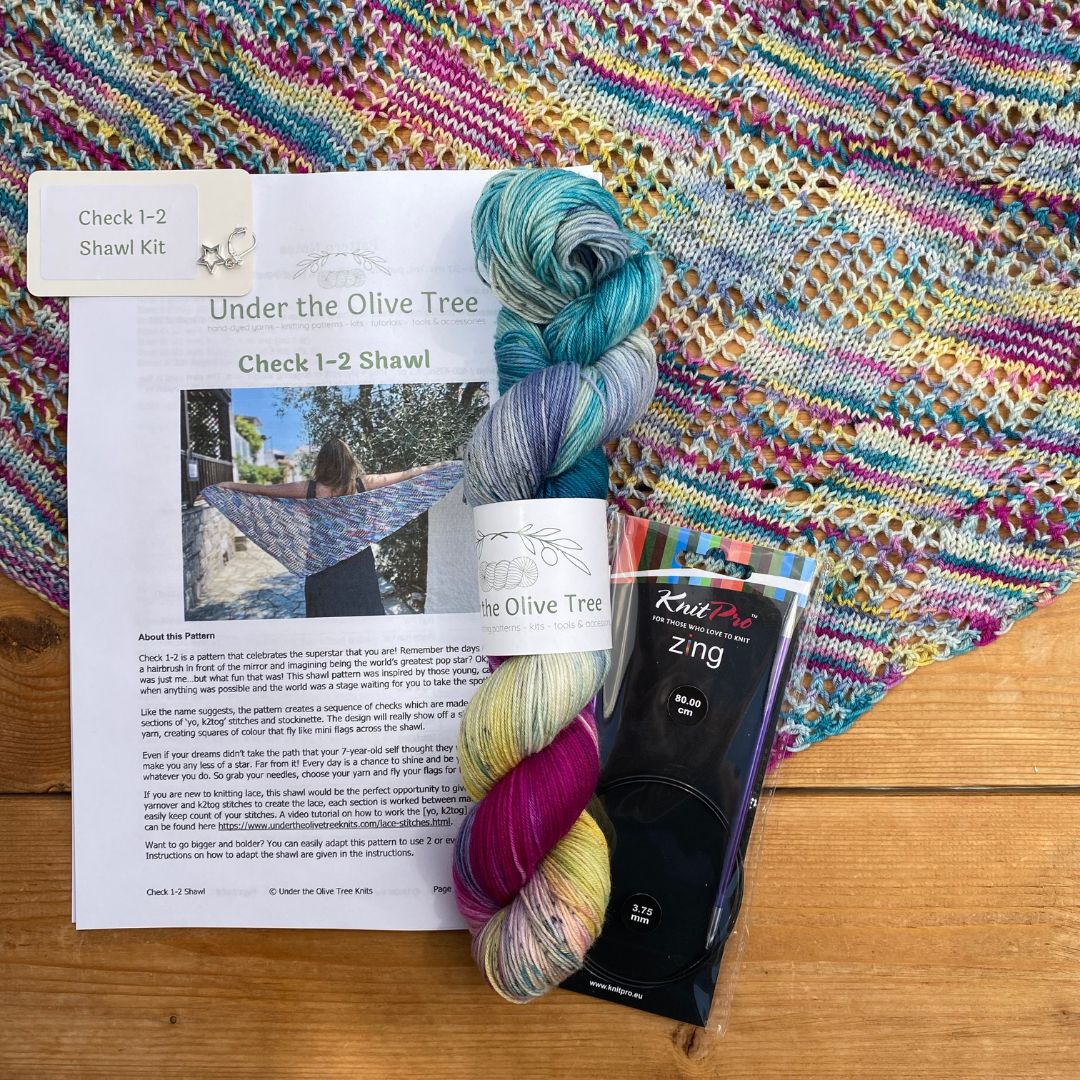 'Choose your Yarn' Kits are available for the Check 1-2 shawl with everything you need for the project.
The kit includes a skein of 100g skein of Chora Sock Yarn (75% Superwash Merino / 25% nylon) at 425m per 100g skein - choose from any of the colourways available on the website!
Kits are presented in organza bags and you can add a needle and also a printed copy of the patten. They make great gifts too!
Thank you Test Knitters!
The pattern has been professionally tech edited by James Bartley and was tested by a fantastic group of test knitters too!
Thank you Caroline, Debbie, Karen, Katie, Pat and Sharon.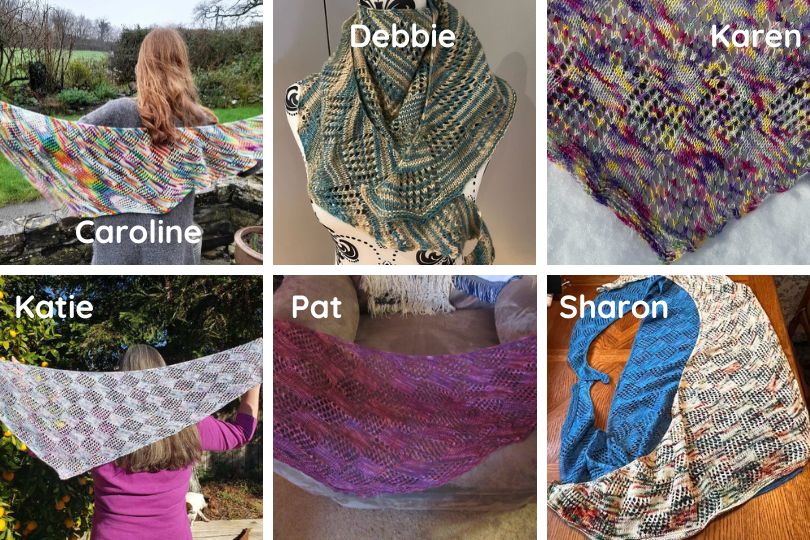 Go Large with a 2 Skein Shawl!
As mentioned above, it's really simple to make a 2 (or even 3) skein version of this shawl, and Sharon did just that. Thank you Sharon!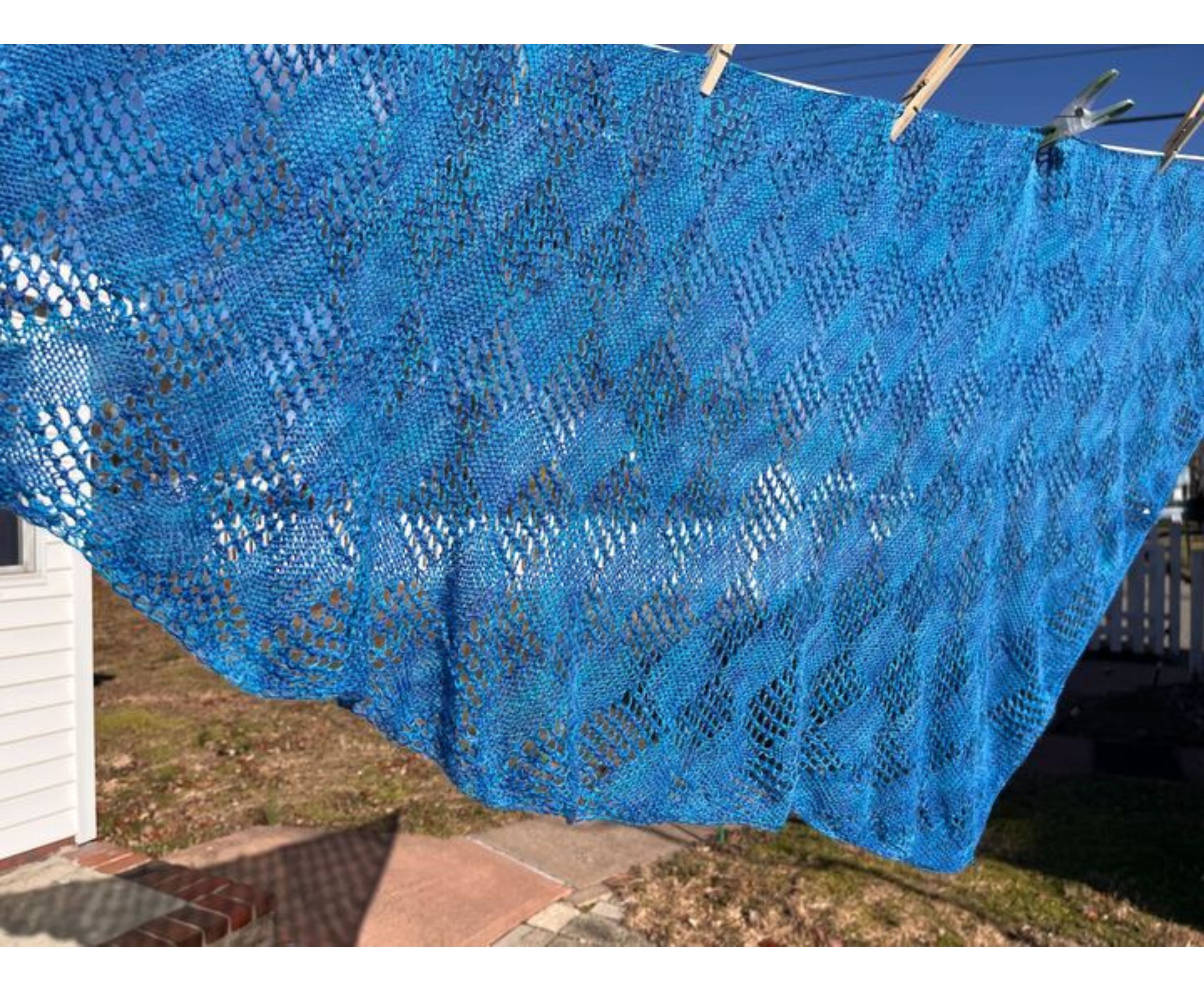 Test Knitter Feedback
"Jems patterns are always do-able, and extremely wearable. The instructions are well written with an experienced knitters knowledge of thoughtful pattern layouts, both written and charted, and an unbeatable stitch count chart" – Sharon
"As always the pattern was well written and the finished shawl beautiful. The shawl looks so much more like squares once blocked. Loved the finished shawl" – Pat
"A one skein wonder with an easy to follow and memorise pattern allowing for full relaxation in the knit, an ideal TV project" – Caroline
"Showcase a colourful skein of variegated yarn with this beautiful pattern!" – Karen
Thanks for stopping by, I hope you like the new pattern!
Until next time, happy knitting,
Jem x