Sign ups for the next Skein and Shawl Club are now open!
Posted on
Sign ups for the next Skein and Shawl Club are now open!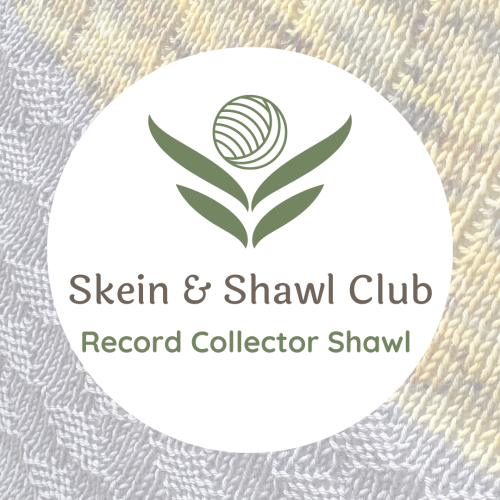 The Skein and Shawl Club is a yarn club from Under the Olive Tree Knits where you can recieve a box of yarny treats including an exclusive pattern, hand-dyed yarn and more!
About the Record Collector Pattern
Record collector uses two skeins of 4ply yarn starting with a colourful, variegated skein to let your stitches sing out loud! A simple repetition of knit and purl stitches makes this a catchy knit and one that is easy to memorise. Once you have reached the end of your first skein it's time to jazz things up and introduce a contrast colour, changing the rhythm of your stitches as you knit the textured border.
Like the main body of the shawl, the border uses just knit and purl stitches but here the stitches work to pull the fabric into a fluted rib pattern for the final outro.
And once you have cast off, if you flip the shawl over you will see that it also has a very attractive B-side!
Shawl Type: Semi-Circular
Shawl Size: The finished blocked shawl measures 82" (208 cm) wingspan and 18" (46cm) in depth
Yarn included: 2 x 100g / 425m skeins of sock yarn (75% superwash merino / 25% nylon)
Colourways:
Yarn A: Goldengrey
Yarn B: Steel
Pattern Instructions: Written and Charted
Stitches Used: Sl1 wyif, knit, purl, kyok (knit-yarnover-knit), yo
Needle Size: 3.75mm - 100cm circular needle
There are 2 options for the Record Collector Skein and Shawl box.
Option 1: £38
A printed copy of an exclusive 'Under the Olive Tree' one skein shawl knitting pattern called 'Record Collector'. This is a brand new pattern and will be exclusive to members of the Skein and Shawl Club for one month before its official release.

The yarn you need to knit the pattern.

A free copy of the pattern sent to you via Ravelry or e-mail once the pattern is officially released
Option 2: £48
All of the above plus some extra goodies!
Sign ups are open until Friday 10th February and boxes will be posted out from Monday 20th February
The needle is not included but it can be added as an optional extra.
The pattern has been tech edited and test knitted prior to publication.
What happens after I sign Up?
Sign-ups for the club are open until Friday 10th February and the boxes will be posted out w/c Monday 20th.