New Free Pattern! City Lights Shawl
Posted on
The City Lights shawl is now available as a free download from Under the Olive Tree Knits and Ravelry or by using the download buttons below.
This pattern is available as a free download until 30th November 2022.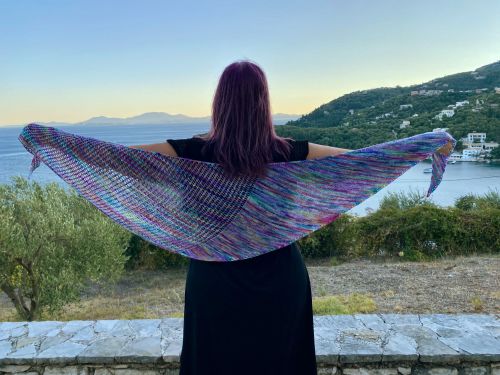 When I worked in the city, one of my favourite ways to spend a rainy lunch break was to sit in the window of a coffee shop and watch people being hurried and impatient, quickly trying to make it to their next destination. As the skies grew darker, the colours that were reflected off the street grew brighter. Colourful puddles appeared under illuminated shop windows and raindrops trickled down the window, breaking and blurring the colours outside like an abstract painting.
As one of the organisers of the Cambridge Yarn Festival, one of the events we have put together is a London Yarn Crawl in November. Being in London in November brings back these memories of rainy, colourful days. The City Lights shawl was designed for this event and it's a one-skein shawl that will really showcase all of the colours in a variegated yarn.
A shawl of two halves, this one-skein-wonder begins with a section of stockinette that sets out the colours and lets every stitch shine brightly. Then halfway through, the lines of colours start to break up with 'yo, k2tog' stitches. This simple lace stitch displaces the colours of your yarn like broken raindrops yet keeps things interesting as you work each row.
The end result is a quick-knit shawl that will keep you warm and cozy on those rainy days - whether you are the one scurrying to find shelter, or the one sipping your coffee and watching the blurry world from the other side of the window.
If you are new to knitting lace, this shawl would be the perfect opportunity to give it a try as it uses just yarnover and k2tog stitches to create the lace. A video tutorial on how to work the [yo, k2tog] stitch combination can be found here https://www.undertheolivetreeknits.com/lace-stitches.html.
Download City Lights from the Website
Download City Lights from Ravelry

Stitches Used – Sl1 wyif, knit, purl, kfb, yo, k2tog, 'yo, k2tog' lace stitches
Sizes – One size
Measurements – The finished, blocked item has a wingspan of 81" (205.5cm) and a depth of 17" (43cm)
Materials
437-464yd / 400-425m, 3.5 oz / 100g 4 ply, sock or fingering weight yarn. The yarn used in the pattern pictures is Under the Olive Tree Knits Sparkle sock yarn, 75% merino / 20% nylon / 5% Silver Stellina in the Purple Skies colourway

US size 5 (3.75mm) 32" (80cm) circular needle

1 stitch marker

1 tapestry needle for weaving in the ends
Gauge: 22 stitches and 33 rows to 4" (10cm) in stockinette stitch after blocking
---
The pattern has been professionally tech edited by James Bartley and was tested by a fantastic group of test knitters too!

Thank you Angela, Jacqueline, Mari, Mel, Pat and Sharon!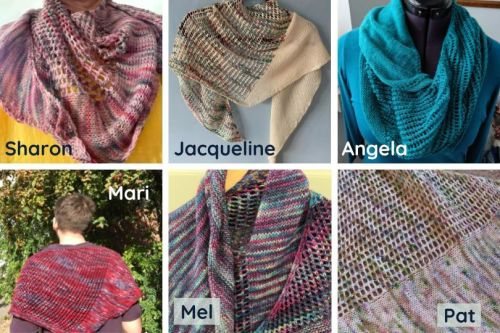 ---
New Yarn Colourway!
The sample pattern used a skein of Purple Skies, a new colourway for Autumn 2022 which has flashes of pinks, purples, yellows, blues and greens.
Purple Skies is on a Sparkle Sock base so as well as all of those lovely colours you also get lots of sparkle too! A 100g skein has 400m and is a mix of 75% Superwash Merino / 20% Nylon and 5% Silver Stellina.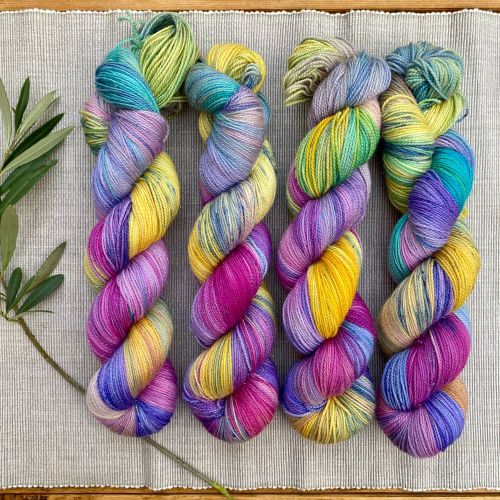 ---
Kits are Available too!
Choose any skein of Chora or Sparkle sock yarn available on the website!
Kits come in an organza bag with a stitch marker. You can also choose to have a printed copy of the pattern and a 3.75mm circular needle included if you wish.
I hope you like the new pattern - don't forget to download your free copy by 30th November.