Join the Skein and Shawl Club!
Posted on
I have an exciting new venture launching today in the way of a Skein and Shawl club - a yarn club with a difference! Join the brand new yarn club and recieve an exclusive pattern, hand-dyed yarn, Facebook KAL and extra treats!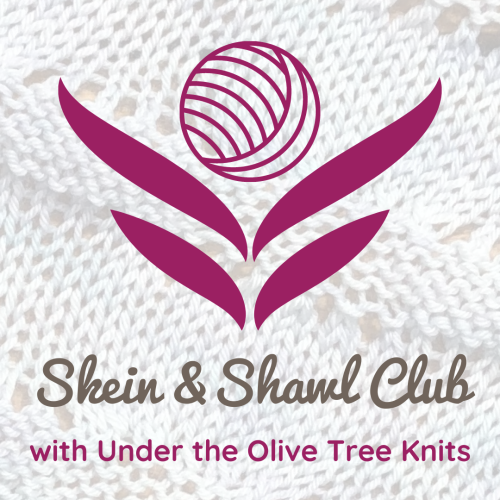 The Skein and Shawl Club is a new yarn club from Under the Olive Tree Knits where you can recieve a box of yarny treats including an exclusive pattern, hand-dyed yarn and more!
What's in the Box?
Sign ups for the first Skein and Shawl club are now open and here's what's included in your goody box:
A printed copy of an exclusive 'Under the Olive Tree' Shawl pattern called 'Shallow Tide'. This is a brand new pattern and will be exclusive to members of the Skein and Shawl Club for 1 month before its official release.

A 100g skein of 4ply hand-dyed yarn to knit the pattern

An exclusive Facebook Group and Knitalong for the pattern.

Extra treats, including a souvenier from Alonnisos in Greece, the place that inspires many of my patterns

A free copy of the pattern sent to you via Ravelry or e-mail once it is officially released
Essential Info
The pattern and colourway are a surprise but here is an overview of the details:
Shawl Type: Asymmetric
Number of skeins included: 1 x 100g / 425m 4ply Chora sock yarn
Colourway: Pale blues / purples
Pattern Instructions: Written and Charted
Stitches Used: Sl1 wyif, knit, purl, kfb, k2tog, ssk, yo
Needle Size: 3.75mm - 80-100cm circular needle
The needle is not included but it can be added as an optional extra.
The pattern has been tech edited and test knitted.
What happens after I sign Up?
Sign-ups for the club are open until 31st July and the boxes will be posted out during the first week of August.
There will be a Facebook Knitalong for the pattern, details of which will be sent to you once the kits have been posted out.
So why not come and join in the fun and find out what's inside your 'Shallow Tide' goody box!
Join the 'Shallow Tide' Skein and Shawl Club