Trail and Blaze - Download the Free Pattern and Join the Summer Knitalong!
Posted on
The Trail and Blaze shawl is now available as a free download and on Ravelry or by using the download buttons below!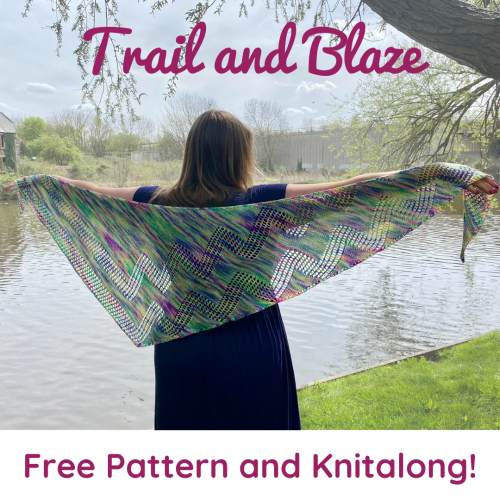 Trail and Blaze!
Make some trails with your stitches and watch the colours of your yarn blaze brightly with this one-skein shawl.
Trail and Blaze is designed to make the most of your colourful yarn with stretches of smooth stockinette and paths of simple lace yarnovers.
As you work your shawl, parallel tracks of lace emerge and border a path that zig-zags its way to the edge. Once you near the end of your shawl, the lace and stockinette become straight paths to decorate the edges of your shawl. A reminder that, even though a journey might take you in different directions, ultimately, you'll always find a path to your home straight!
So trailblaze a path with your knitting and make your own tracks with this fun project!
If you are new to knitting lace, this shawl would be the perfect opportunity to give it a try. Using just yarnover and k2tog stitches to create the lace, each section is worked between markers so you can easily keep count of your stitches. A video tutorial on how to work the [yo, k2tog] stitch combination can be found here

Stitches Used – Sl1 wyif, knit, purl, kfb, yo, k2tog, 'yo, k2tog' lace stitches
Sizes – One size
Measurements – The finished, blocked item has a wingspan of 73" (185cm) and a depth of 20" (51cm)
Materials
437-464yd / 400-425m, 3.5 oz / 100g 4 ply, sock or fingering weight yarn. The yarn used in the pattern pictures is Under the Olive Tree Knits Chora sock yarn, 75% merino / 25% nylon in the Summerdaze colourway

US size 5 (3.75mm) 32" (80cm) circular needle

5 stitch markers

A tapestry needle for weaving in the ends
Gauge: 22 stitches and 33 rows to 4" (10cm) in stockinette stitch after blocking
---
The pattern has been professionally tech edited by James Bartley and was tested by a fantastic group of test knitters too!

Thank you Angela, Aurelie, Cat, Isla, Sharon and Suzanne!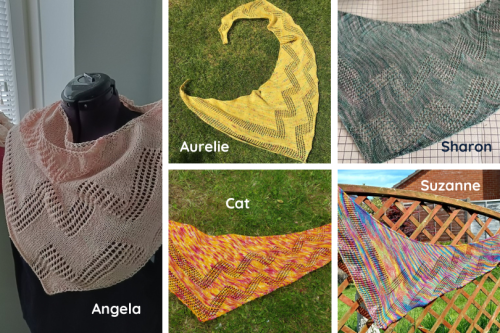 ---
New Summer Yarn Colourway!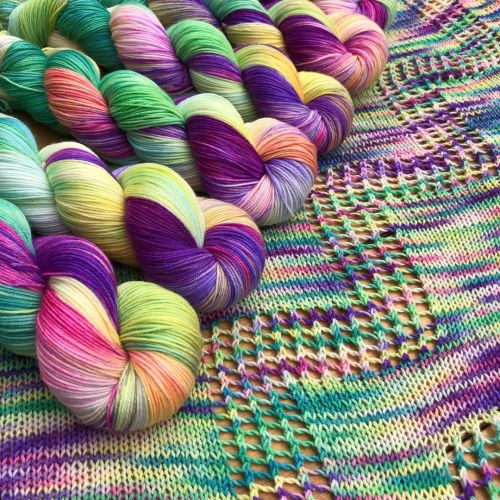 This is Summerdaze, a new summer colourway for 2022 that captures all the colours of summer with grass greens, pansy purples, rose pinks and sunshine yellows.
Summerdaze was used to knit the sample that you see in the pattern pictures and it is now available to buy on the website.
---
Join the Trail and Blaze KAL this Summer!

The KAL will run until 31st August 2022 and the pattern will be available as a free download for the duration.

There are some fantastic prizes waiting to be won including:
Full details of the prizes and the generous people who have donated them will follow in the next newsletter.

The KAL will run on Instagram, The Under the Olive Tree Knitters Facebook Group and via Email. To be in with a chance of winning make sure you post a picture of your finished shawl either on:

Instagram - tag @olivetreejem and use #trailandblazekal
Facebook - In the Under the Olive Tree Knitters Facebook Group
Email - send a photo of your finished shawl to [email protected]

Each post of a finished shawl will count as an entry so if you post on all 3 platforms then you will have 3 entries in the prize draw! The draw will take place Live on 1st September
---
Watch a Video of the Trail and Blaze Shawl
This video shows you all of the techniques used to make the shawl, from casting on to blocking. If you are knitting the pattern, this video shows you some key points which you might find helpful if you are new to any of the stitches.
I hope you enjoy this free pattern and I look forward to seeing your Trail and Blaze Shawl in the KAL :)