New Pattern! The Featherfall Shawl
Posted on
I am excited to share my new shawl pattern with you today! This is the Featherfall shawl and it is now available to download from the website, Ravelry and Payhip.

Do you ever wish you could put on a pair of wings, fly away and soar among the clouds? Whilst Featherfall doesn't have the magic to make you fly, it does weave a spell with its dreamy, featherlight lace pattern that tessellates through the body like overlapping feathers. Despite the intricate appearance, the lace is simple and intuitive thanks to clearly-defined spines. This shawl is the perfect project for a meditative solo flight with your needles.

Featherfall is a top-down crescent shawl designed for laceweight yarn. A single bead tips each large feather, and chevrons of beads enhance the open lace along the border, lending a bit of weight to help you feel grounded yet light as air.

Video tutorials are linked for all of the stitches used, including how to add beads. There is also a handy stitch count checklist provided.

Stitches Used – Sl1 wyif, kyok, yo, knit, purl, k2tog, ssk, sl2tog-k1-p2sso, sl1-k2tog-psso

Sizes – One size

Measurements – The finished, blocked item has a wingspan of 63" (160cm) and a depth of 18.5" (47cm)

Materials
Gauge: 24 stitches and 38 rows to 4" (10cm) in stockinette stitch after blocking
Kits are available for the Featherfall shawl and when you buy the kit you get the pattern for free! The kit comes with a skein of Peristera Lace yarn 55% Bluefaced Leicester and 45% Superwash merino in a choice of 3 soft pastel colours, or in the limited edition Shades of Aquamarine colourway (see below)! You can also choose your bead colour from Silver, Crystal or Rose Gold.
Kits are presented in organza bags and you can add a needle if you wish - they make great gifts too!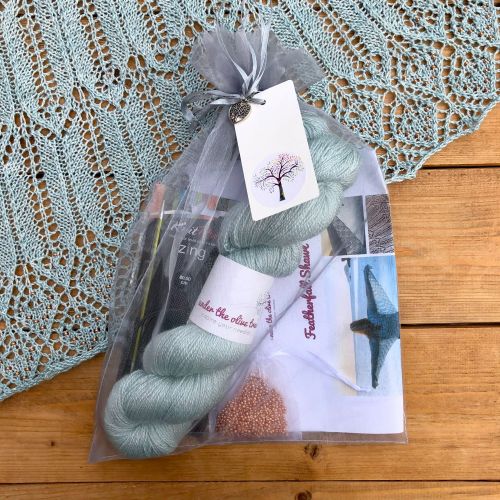 ---
The pattern has been professionally tech edited by James Bartley and was tested by Nicola, Margaret, Martine, Pat, Mirjam and Lesley - thank you!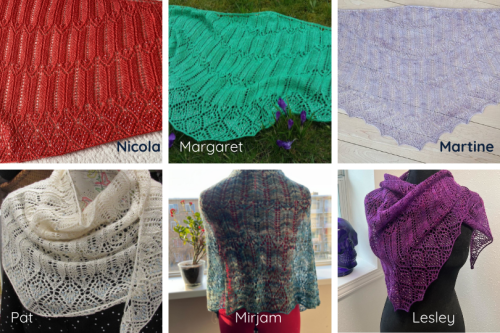 And here is what they had to say about this pattern:
"The pattern for the featherfall shawl is well written and the finished shawl is beautiful. The beadwork is just enough to enhance but not so much to make it too heavy (both in looks and weight). I would make this shawl again and again" - Pat
"I really enjoyed knitting this pattern. It is very varied but clear and easy to follow. Highly recommended even if you are knitting lace for the first time" – Mirjam
"I enjoyed knitting the Featherfall shawl. It seems like a lot of beads but it's definitely worth the effort as they really do add a bit of glamour and drape to the finished knit. The pattern is clear and easy to follow and I soon mastered the lace repeats. It's not too difficult - have a go!" – Margaret
---
Limited Edition Colourway!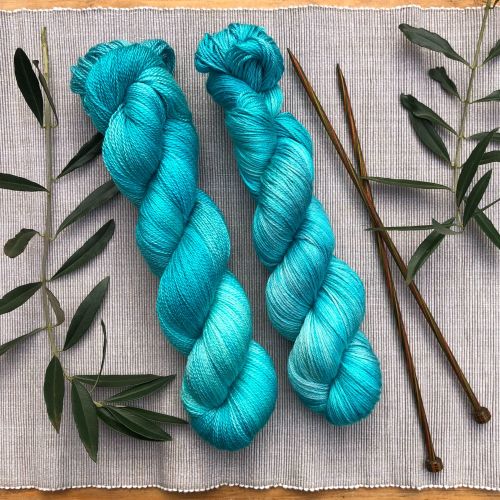 This is Shades of Aquamarine, a new limited edition semi-tonal colourway which is available as an option in the Featherfall shawl kit, on the Peristera Lace base (55% Bluefaced Leicester / 45% Silk). It is also available on the Steni Vala 4ply base (50% Superwash Merino / 50% Silk)
This colourway would work beautifully for the Featherfall Shawl or with any of the patterns in the 'Shades of...' collection
This colourway will only be available until 31st March so grab it while you can!