New Colourways!
Posted on
Over the past couple of weeks my mind has started to drift towards Summer, and in particular this years Summer KAL! As you may know, I host a Summer KAL every year with a free pattern for the duration. And I've been experimenting with different colourways to find the perfect combination of Summer colours for the sample.

But one thing about yarn dyeing is that is that sometimes the colourways you imagine are not the colourways that happen! So in my quest for the perfect summer colourway I have inadvertently created some others! At the moment these are all small batch and may not be repeated, but if any prove popular they may become regulars on the website. From left to right, let me introduce you to...Carnival of Colour, Lakehouse, Firecracker, Spring is Coming and Rain Dance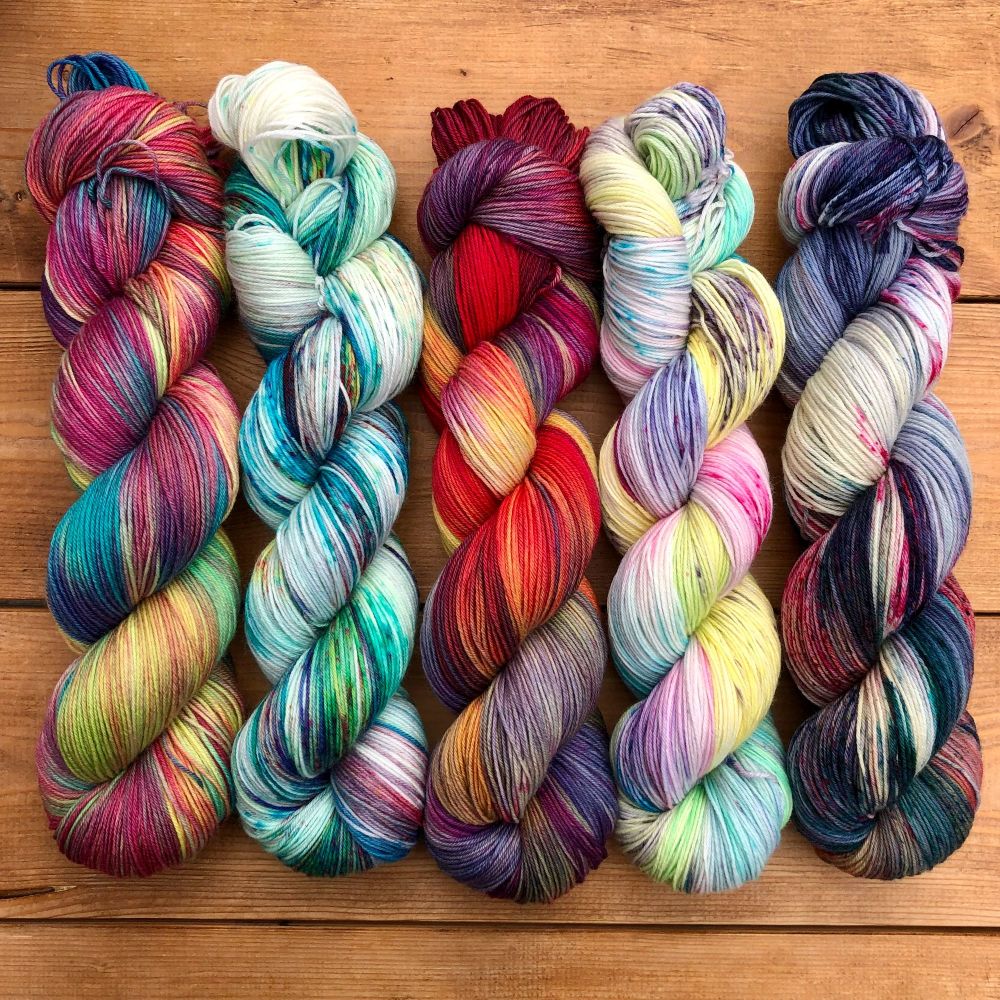 All of these colourways are on the Chora 4ply base - 100g / 425m and 75% Superwash Merino / 25% nylon.

You can find these and may other colourways on the website, click HERE to head on over to the shop.
As for the colourway that made the cut for the Summer KAL? All will be revealed very soon :)
Yorkshire Yarn Festival

Next Saturday 19th March I will be taking part in the virtual Yorkshire Yarn Festival. If you aren't familiar with the event, it's happening over on the @yorkshireyarnfest Instagram page.

There are a whole host of yarn dyers and knitting / crochet businesses taking part, and I'll be talking about my upcoming new lace shawl pattern - Featherfall, and also showcasing a new limited edition colourway called Aquamarine. Aquamarine is a lovely semi-solid colourway of blues and will be available as part of the 'Shades of...' range on the Steni Vala base (50% superwash merino and 50% silk) and would work beautifully with any of the patterns in the collection.

It will also be available on the Peristera Lace base as used in the Featherfall shawl. Kits for the Featherfall shawl will be available with Aquamarine as a colour option.

Stay tuned for more details next week!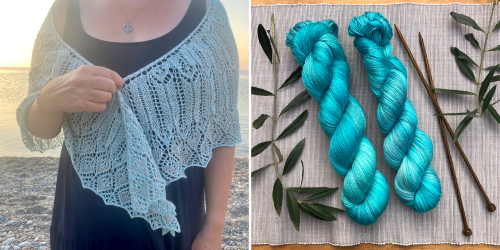 If you are interested in learning more about shawl knitting there are still a couple of spots left on the 'Introduction to Shawl Knitting' online workshop next week. During the class we talk about shawl shaping, how to choose your yarn and then we knit 5 mini shawls. At the end of the class you will have 5 shawl patterns that you can use for any yarns in your stash!