New Pattern! Lasso the Moon Shawl
Posted on
I am excited to share my new shawl pattern with you today! This is the Lasso the Moon shawl and it is now available to download from the website, Ravelry and Payhip.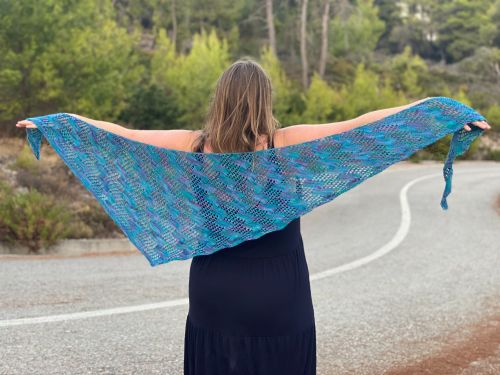 If you can Reach for the Stars you can Lasso the Moon!

This shawl is a sister pattern to the Reach for the Stars shawl, but this time the lace begins weaving it's spell a lot sooner, creating beautiful zig-zag paths across the whole shawl. Lasso the Moon is the perfect choice for a skein of colourful sock, 4ply or fingering-weight yarn and is designed to make the most of your skein.

The asymmetric triangle alternates sections of easy-to-work 'yo, k2tog' eyelets with sections of stockinette to create light, lacy trails from the tip to the border. And like its sister design this pattern makes for an engaging, quick knit which will put your yarn in the spotlight.

If you are new to knitting lace, this shawl would be the perfect opportunity to give it a try. Using just yarnover and k2tog stitches to create the lace, each section is worked between markers so you can easily keep count of your stitches. A video tutorial on how to work the [yo, k2tog] stitch combination can be found here https://www.undertheolivetreeknits.com/lace-stitches.html

Stitches Used – Sl1 wyif, knit, purl, kfb, 'yo, k2tog' lace stitches

Sizes – One size

Measurements – The finished, blocked item has a wingspan of 75" (190.5cm) and a depth of 20" (51cm)
For full details of the materials required and to download a copy visit the pattern page here

The pattern has been professionally tech edited by James Bartley and was tested by a fantastic group of test knitters!
Thank you Donna, Jaynie, Claire, Ruth, Jen and Karen!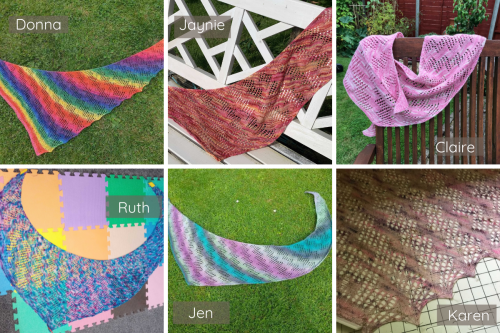 Here's what the test knitters had to say:

"As always, Jem's patterns are very clear and easy to follow. Always a pleasure to knit" - Donna

"Fun pattern to knit. Easy to follow chart. Lace sections from the beginning kept an interest, but weren't too difficult. Very addictive, a 'just one more section' knit" – Jen

"I have knit quite a few patterns by this designer and have always found them easy to knit but always end up such an impressive looking finished item. This pattern is no different. Clear pattern instructions with video tutorials if needed. Really perfect for any level of knitter" - Ruth

"Lasso the moon is a very enjoyable pattern to knit. I took it on holiday and the project was easy to transport .Using the suggested lifelines meant that I could easily correct lapses in concentration" - Claire
Thanks for stopping by, I hope you like the new pattern! If you make this shawl do come and share your progress and photos in our friendly Facebook Group - Under the Olive Tree Knitters - I'd love to see it!