It's Here! Download your Free Reach for the Stars Shawl and join the KAL
Posted on
It's here! The Reach for the Stars Shawl is now available as a free download - click HERE to download your copy.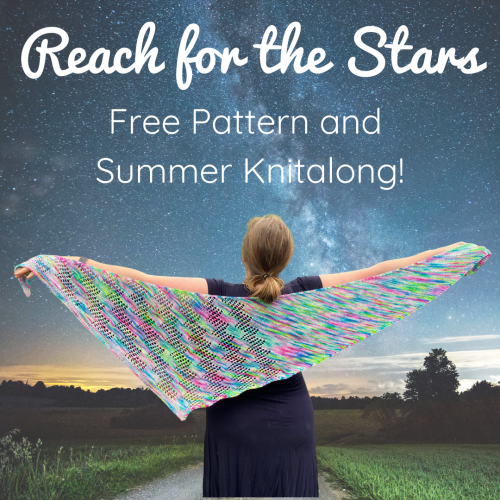 Reach for the Stars!
It's such a magical feeling when the stars align and everything falls into place. But it's not just stars that align, its yarn and patterns too! Reach for the Stars is designed for one skein of variegated sock / 4ply or fingering weight yarn. Maybe you have a one off skein in your stash waiting for the right pattern to come along to show off its beauty – well, this design is the one to do just that. It's a fun, quick knit which will make your yarn the star of the show!
The asymmetric triangle is worked in stockinette throughout the body before alternating with starlit zigzags of eyelet mesh towards the border. Once finished this shawl will be one to reach for when you need a reminder that anything is possible!
If you are new to knitting lace, this shawl would be the perfect opportunity to give it a try. Using just yarnover and k2tog stitches to create the lace, each section is worked between markers so you can easily keep count of your stitches. A video tutorial on how to work the yo, k2tog stitch can be found here https://www.undertheolivetreeknits.com/lace-stitches.html
Stitches Used – Sl1 wyif, knit, purl, kfb, yo, k2tog, 'yo, k2tog' lace stitches
For full pattern details, including the materials required take a look at the pattern page here.

Choose your Yarn kits for the shawl are also available on the website - pick your favourite skein of yarn from the shop and then you can choose whether to add a 3.75mm KingPro Zing circular needle and/or a tin of 12 stitch markers. Kits come in a pretty organza bag and you can also opt to have the pattern printed and posted with the kit.
---
The pattern has been professionally tech edited by James Bartley and was tested by a fantastic group of test knitters too!
Thank you Cindy, Tori, Sangeeta, Linda, Sharon and Karen.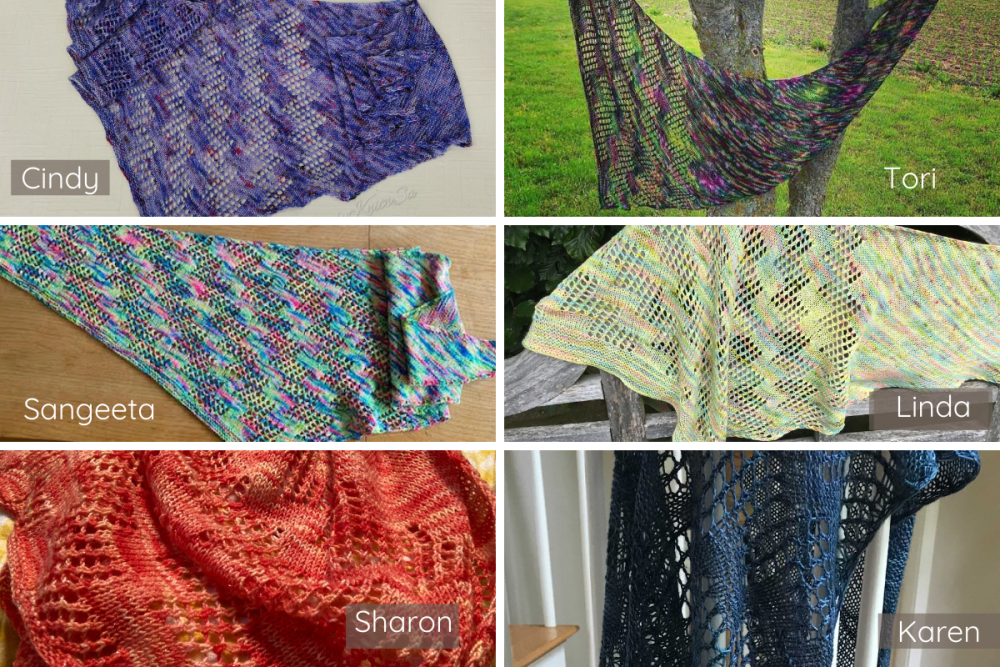 Here's what the testers had to say about the pattern:
"I am a bit obsessed with Under the Olive Tree Knit patterns. Especially the triangular shawls. I love every one I have made so far, and this was no different. The lace pattern is so pretty, and the pattern is well-written, so even new-to-lace knitters can follow it and succeed" - Karen

"Another great pattern from Jem Arrowsmith of Under the Olive Tree.
Pattern well written and easy to follow, with good links to helpful videos" - Linda

"This the first Olive Tree Knits pattern I have used and found it really enjoyable to knit. The pattern was easy to follow. The accompanying videos are really helpful if you need extra help" - Sangeeta
"Reach for the Stars is an enjoyable lace knit easy enough for beginners to get into lace knitting and a 'TV knit' for more advanced knitter" - Cindy
---
Join the Stargazer Knitalong this Summer!
The KAL will run until 31st August 2021 and the pattern will be available as a free download for the duration.
There are some fantastic prizes up for grabs including:
Full details of the prizes and the generous people who have donated them will follow in the next newsletter.
The KAL will run on Instagram, The Under the Olive Tree Knitters Facebook Group and on e-mail. To be in with a chance of winning simply post a picture of your finished shawl on either:
Instagram tag @olivetreejem and use #reachforthestarskal
Facebook - in the Under the Olive Tree Knitters Facebook Group
Or e-mail a picture of your finished shawl to [email protected]
---
Ravelry
If you are comfortable using Ravelry and prefer to download your patterns on there so that they go to your pattern library, you can download the pattern from Ravelry here.