New Pattern! The Garden Party Shawl
Posted on
I have a new shawl pattern available! This is the Garden Party Shawl and it is now available to download from the website, Ravelry and Payhip.

About this Pattern

The garden is an alluring space by day, but in the evening, the setting can be simply magical. With fairy lights strung through the trees, the garden transforms into something special. It becomes a gathering place where threads of friendship are interwoven, where secrets are shared, where laughter is pure.

This asymmetric shawl is perfect for long summer evenings in the garden. Knitted in a silk and merino blend, the fabric is lovely and soft, with just the right amount of drape. Shimmering beads dance across chevron lace like lights twinkling through the branches. So string up those lights, call up some friends, put on some music, light the fire pit and let the conversation and laughter flow, it's what summer nights were made for!
The shawl uses 1 skein of 100g 4ply, sock or fingering-weight yarn at 400-425m. The sample shawl was worked in Under the Olive Tree Knits Steni Vala 4ply yarn, a lustrous and velvety blend of merino and silk. This yarn and pattern would work beautifully with any of the solid shades available in the custom dye range, or any of the semi-solid 'Shades of....' range
If you are new to knitting with beads this would be a great project to give it a try. A video tutorial for adding beads with a crochet hook is linked in the pattern or take a look at the video on the pattern page for a demo!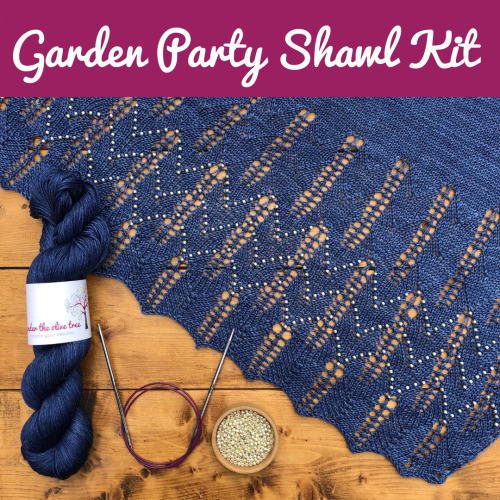 You can order the kit in a colour of your choice of Steni Vala (50% silk, 50% merino) yarn from the Custom Dye page or the Steni Vala yarn page. And you can choose your bead colour too from the selection of Size 6 Toho Beads available on the website. Each kit comes with the yarn, beads, pattern, stitch marker and is presented in an organza project bag. You can also choose to add the needle and crochet hook if you wish.
The pattern has been professionally tech edited by James Bartley and was tested by a fantastic group of test knitters too!

Thank you Kim, Karen, Hazel, Cindy, Fabiana and Yvonne.

Karen liked the pattern so much that she knitted 2!

Here's what the test knitters had to say:
"This pattern was very easy to follow and could easily be adapted to be knit without the beads. I chose to knit in a solid MCN yarn, and was not disappointed. The details of the lace and the beads shine through without distraction from a variegated or self-striping yarn. As with all of Jem's patterns, it is well-written and clear, and the stitch count chart is an amazingly helpful tool. All designers should include that!" - Karen
"I found the pattern to be a fairly quick project which is not too complicated to make. It is suitable for an those who have made lace patterns before and are looking to add another dimension in the form of beads. The beads are easy to add with the help of a fine crochet hook. The finished garment is of a good size and drapes beautifully with a nice weight due to the beads" - Hazel
"This pattern is a beautiful knit with simplicity and touches of elegance with the beading. It can be a great everyday shawl or an evening wear piece" - Kim
"This is a fun, quick knit resulting in a lovely, sparkling shawl, perfect for summer evenings" - Cindy
"I've loved this first step into beading – the pattern is easy to follow and the shawl is just beautiful – cannot recommend enough" - Fabiana
"As a first time using beads the instructions were very clearly written" - Yvonne
If you are interested in test knitting a future Under the Olive Tree Knits designs you can sign up to my Test Knitter Newsletter HERE and receive an e-mail when a new pattern is ready for testing.