Let's Knit Socks!
Posted on
I've been very busy over the past couple of weeks, putting together a whole programme of video tutorials for my beginner sock pattern - Let the Yarn Shine.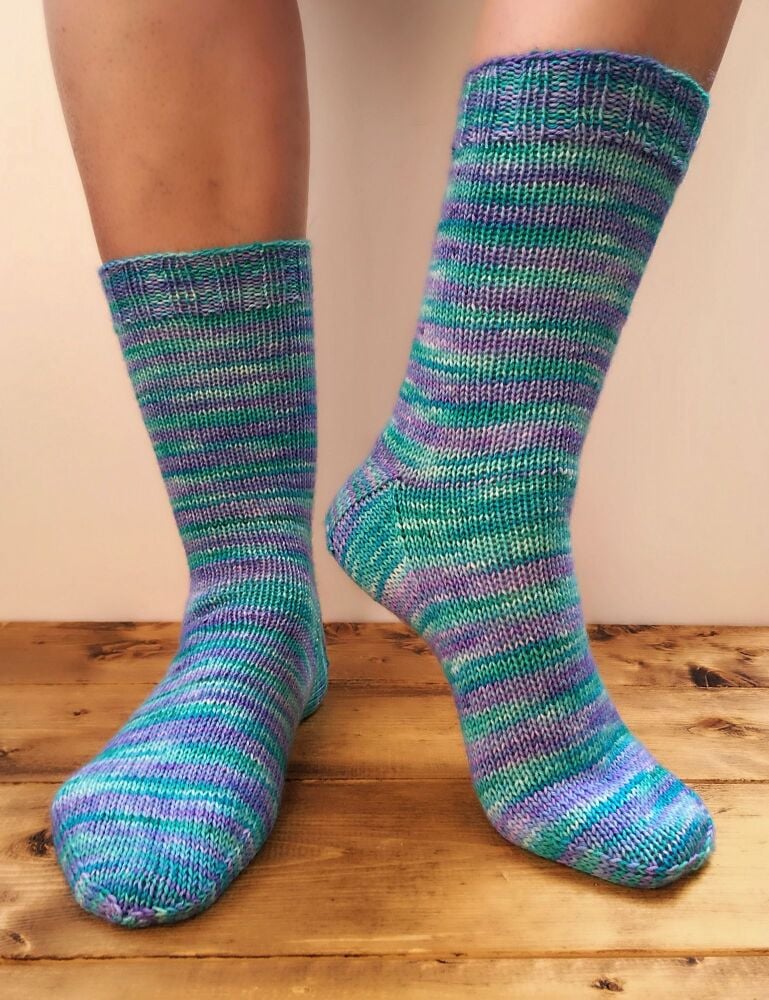 This pattern was released a couple of years ago as a basic pattern for knitting a top down sock using double pointed needles. It includes of photo's and handy hints for each stage of knitting the sock, and it's a great pattern for showing off a lovely colourful skein of yarn too!
I have been meaning to update the pattern with a full programme of supporting video tutorials for a while now and I am pleased to say the new and improved pattern is now available!
So if sock knitting is on your future to-do list, look no further!
This pattern has been written for the knitter who is brand new to sock knitting. You will need to be comfortable with working knit and purl stitches and k2tog, ssk and p2tog decreases. Using the pattern and the programme of supporting video tutorials, we will go through every stage of sock knitting step-by-step. There are also lots of photos and handy hints included in the pattern too.

The pattern has 3 sizes, although these are easily customisable and details are given on how to adjust for a perfect fitting sock
In this pattern we cover:
How a top down sock is constructed

How to choose your materials

How to use double pointed needles to knit in the round

How to measure a foot and easily adjust your sock lengths for a perfect fitting sock

How to cast on and divide your stitches over the double pointed needles

How to knit a slip stitch heel flap

How to create a gusset for a snug and comfortable fitting sock

How to shape the toes

How to work Kitchener Stitch to finish your socks

How to block your socks for a smooth and professional finish
Why Knit Socks?
Hand knitted socks are a real treat for the feet. Not only are they cozy and comfortable but there's also something extra special and luxurious about slipping on a pair of soft hand knitted socks.
As a knitting project they have many elements to keep you interested as well as sections that don't require much concentration, so they can be great for social or TV knitting. And as they are a small project you can pop them in your bag and knit them whenever opportunity strikes!
You can download the pattern from Ravelry or Payhip or request a print and post version from the website! For more details, click on the button below. This will take you to the website which contains further information and links.
>>Download the Let the Yarn Shine Sock Pattern<<
---
Knitting Kits
'Choose your Colour' kits for the socks are available too!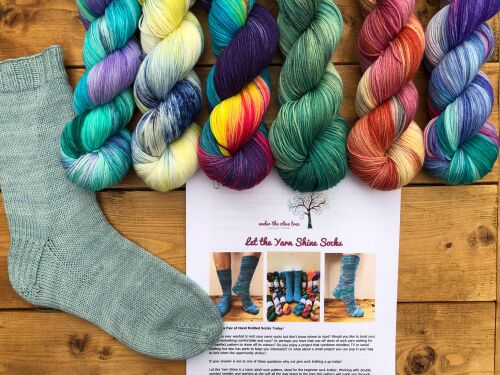 The kit contains a copy of the pattern (sent to you via e-mail, Ravelry or printed and posted), your choice of Chora or Sparkle Sock yarn from any available on the website, and a stitch marker. And you can also add on the double pointed needles if you wish.

The kit is presented in a silver organza bag.
>>Purchase a sock knitting kit<<
---
To find out more about the pattern and to watch a short video head on over to
https://www.undertheolivetreeknits.com/beginner-sock-knitting.html
---
If you use this pattern to make your first pair of socks, please do let me know as I would love to see them. Or if you have any questions, feel free to drop me an email.

Until next time, happy (sock) knitting!