Shop Update - New Yarns Added!
Posted on
New yarns have been added to the website this week. They include a restock of popular colourways on sock and sparkle sock bases including Fiesta Beach, Lavender Fields and Street Art.

And there are some new one-of-a-kind skeins added too, including:
Flowering Fuchsia, Northern Lights, Pearl Fisherman, Everything's Peachy and Purple Dove.
If you like your yarn to be totally unique do be sure to take a look at the new 'One of a Kind Skeins' yarn category which lists all of the colourways that will not be repeated. Quite often these skeins are the result of the end of a dye day, where undyed skeins are used to take on all the leftover colours. Some interesting colourways get created and it also means no dyes go to waste, so its a win-win!

So why not head on over to the website and see if your favourite colourway is in stock! If not, let me know what you were hoping to see and I'll make sure it's on the list for next time (or if it's a repeatable colourway I can dye it to order for you)
Spring Themed Stitch Markers
Also added to the shop this week is this set of Spring themed stitch markers.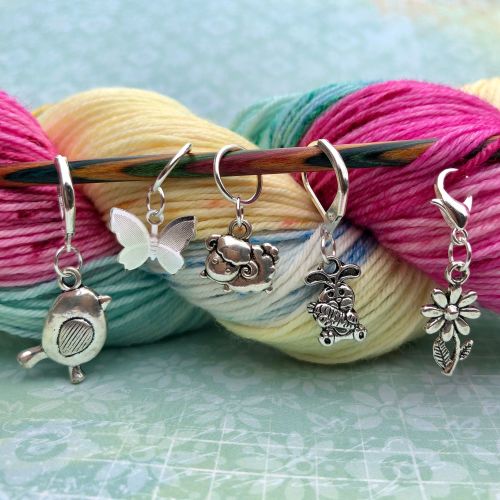 The collection features 5 designs to accessorize your projects for the new season!
Each set contains: A bunny with a carrot, a butterfly, a flower, a lamb and a chick.
As with all collections you can choose your clasp preference and they also come in a handy little tin for storage. You can view the Spring Stitch marker collection here