New Pattern! The Safe Harbour Shawl
Posted on
I am excited to let you know that my new pattern, the Safe Harbour Shawl is now available to download from the website, Ravelry and Payhip!
About this Pattern
For many of us, knitting has become more than a hobby, but it can also be a place of comfort. In a chaotic world, we turn to our trusty yarn and needles for a few moments of calm. We can't control everything in the world but we can at least be in control of our knitting.

Safe Harbour is a top-down crescent shaped shawl that begins with a long stretch of relaxing stockinette. As you near the shawl's edge, waves of zigzag lace ripple along the shore. A crooked jetty of stockinette stands firm amidst the lace, protecting the shallows from the uncertain waters of the deeper lace beyond. However choppy your seas, let knitting be your safe harbour.

The shawl uses 1 skein of 100g 4ply,sock or fingering weight yarn. The sample shawl was worked in Under the Olive Tree Knits Steni Vala 4ply yarn - a lustrous and velvety blend of merino and silk, offering a soft, warm hug when you need it most.

While this might be considered an intermediate-level pattern, it is a good one for the adventurous beginner looking to dip a toe into lacework.
For full details of the pattern please visit the pattern page

here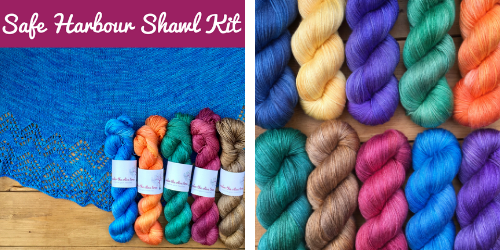 Customisable kits for the shawl are available on the website. And when you purchase the pattern as part of a kit you get it for free!
Safe Harbour is ideal for showcasing a semi-solid colourway, and is the perfect pattern to compliment any of the yarns in the Steni Vala 'Shades of...' or Winter Season ranges. These yarns are a mix of 50% Silk and 50% merino, and have been hand-dyed using a close blend of colours to create a variance of tones throughout the skein.

It also works equally as well with any of the yarns in the 4ply / sock / fingering yarn range.

To complete your kit you can choose whether to add a 3.75mm KingPro Zing circular needle to your order. Kits come in an organza bag and make great gifts either to yourself or a knitting friend!

Click HERE for more details.
The pattern has been professionally tech edited by James Bartley and was tested by a fantastic group of test knitters too!
Thank you Hazel, Teresa, Kim, Carron, Jacqueline and Susan!
If you are interested in test knitting a future Under the Olive Tree Knits designs you can sign up to my Test Knitter Newsletter

HERE

and receive an e-mail when a new pattern is ready for testing.
Thanks for stopping by, and until next time Happy Knitting!