More New Stitch Marker Collections
Posted on
The recent launch of the stitch marker collections on the website proved very popular, and thanks to customer suggestions I am very excited to share with you some more collections added to the shop this week. Check out the themed tins of music, baby, dog and sewing stitch markers!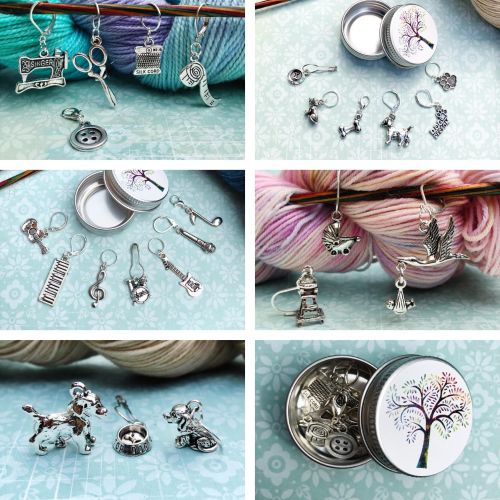 Stitch markers are very handy when it comes to keeping track of pattern repeats, or for marking the the start of a round. They act as little reminders in your knitting, and they look very sweet too!
Sew Crafty - whether you like your stitches on your needles or on fabric you can have the best of both worlds with this crafty collection of sewing themed markers. Each set of 5 markers includes: a vintage sewing machine, a pair of scissors, a reel of thread, a tape measure and a button.
Dog Markers- add some woof to your wool with these cute canine markers. Each set of 6 features a bone, a dog bowl, a sitting dog, a paw print, a standing dog, and a dog person charm.

Pitter Patter - this collection would make the perfect gift for any crafty mum-to-be. This cute bundle of 7 baby themed markers includes a highchair, a pram, a stork and baby, a dummy, a building block, a bottle and some teeny tiny footprints.

Strike up the Band - add some music to your stitches! This set of 7 musical markers includes an acoustic guitar, a keyboard, a treble clef, a drum kit, an electric guitar, a microphone and a crotchet.

All collections are presented in pretty little tin for safe storage.

There is an option at the checkout to choose which clasps you would prefer for your markers. You can choose a fixed ring option (suitable for needles up to 5mm) or you can have a range which will include leverback, lobster, fixed ring and lightbulb*, making them suitable for all kinds of projects.

If you have a particular favourite type of clasp then this can also be noted at the checkout and I can tailor the clasps to your preference.

*If you would like more information on how to use stitch markers and the different types of clasps and their uses you can find this on the website. Click HERE for more information and to view the full range available.