Let the Yarn Shine Socks - Video Tutorials now Available!
Posted on
In July I released a beginner sock pattern, with step-by-step photo tutorials for each step of sock knitting. I am happy to say that the pattern has recently been updated with links to video tutorials too!
This pattern now includes video tutorials for:
Dividing stitches over double pointed needles
Working the slip stitch heel flap
Picking up the heel gusset slip stitches
Kitchener stitch to close the toe
If you have never knitted socks before or are looking for an easily adaptable pattern then this one is for you. It is designed to showcase a lovely skein of variegated, colourful yarn - hence the name!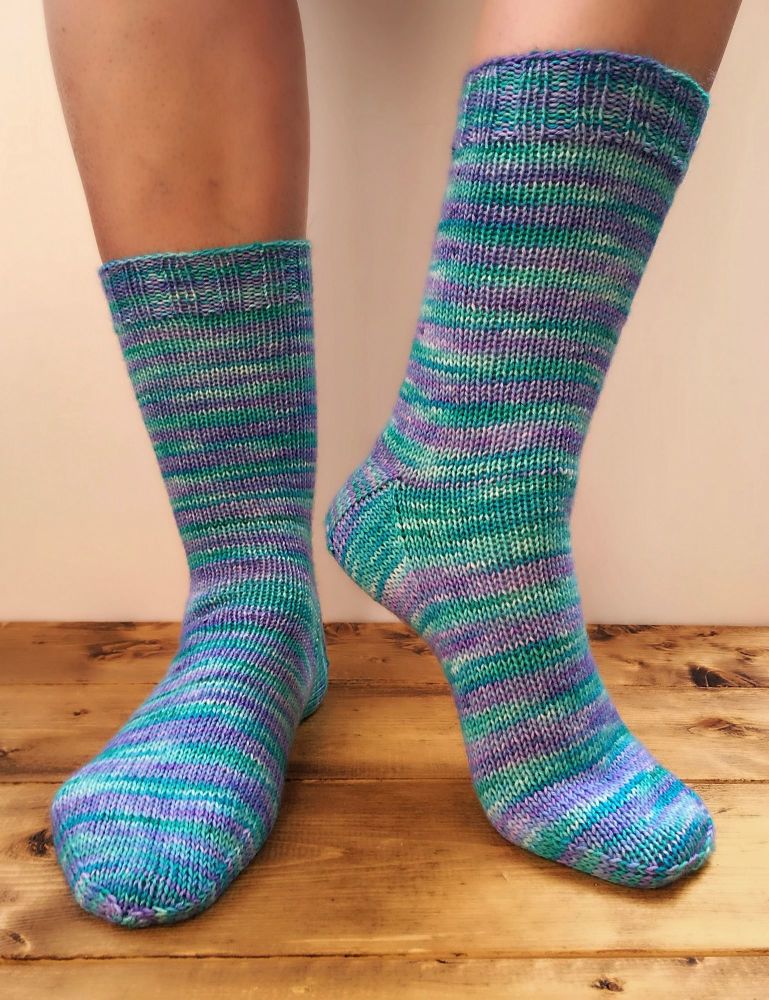 The pattern has 3 sizes for an adult sock, with details on how to customise for the perfect fit. All you need is a skein of 4ply or fingering yarn (it is recommended that you use a yarn with some nylon content for durability) and a set of 2.5mm double pointed needles. Plus a stitch marker and a tapestry needle.

Full details can be found on the pattern page >>HERE<<, or on Ravelry - https://www.ravelry.com/patterns/library/let-the-yarn-shine-socks

Keep them in a small project bag and socks are the perfect portable project. The leg and the foot sections can be knit with ease at knit night or whilst Netflix and knitting. The heel and toe sections require a little more concentration but there's a great deal of satisfaction to be had from turning a heel!

And once you have finished, there is something very luxurious about slipping on a pair of hand-knit socks and admiring your handiwork.

Check out the video below for a slideshow on the different stages of sock knitting!
And if you are looking for the perfect yarn for your new socks then check out the skeins of hand-dyed merino/nylon blend yarn in the online shop.

So if you, or someone you know is looking to try their hand at sock knitting then please do spread the word!
Until next time, happy knitting!