Join the Chain Reaction Shawlette KAL!
Posted on
Hello!
This week, to celebrate the launch of my new website, I published my new design - the Chain Reaction Shawlette as a FREE download!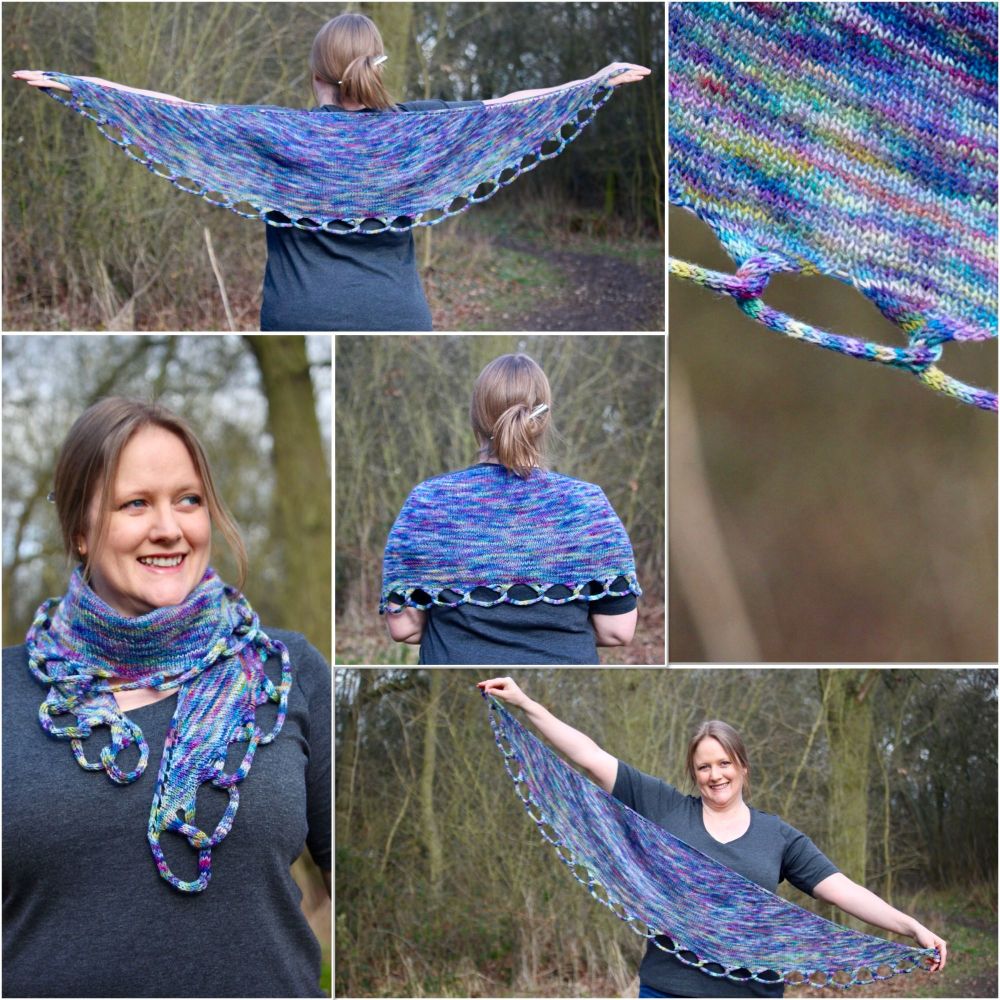 If you haven't already got your copy do make sure you sign up to my newsletter HERE or via the website footer for your free copy! This promotion has now been extended so that the pattern will be available for free for the duration of the KAL until 20th May.

So why not come and join the KAL? It's going to run from Sat 7th April to midday (GMT) on Sunday 20th May and we have some brilliant prizes to be won, which have been very generously donated by the truly talented Fleabubs & Lala, Knitting Needle Lane and Crafty Cat Knitty Bits. Here is what you could win!

When
Prizes and winners will be picked at random for 3 lucky winners who post a completed picture of the shawlette on Instragram or Facebook by 20th May. You can of course continue beyond 20th May but I'll be picking a winner on that date.

What you need
A copy of the Chain Reaction Shawlette pattern
1 x 100g skein of sockweight or 4ply yarn
1 x US size 5 (3.75mm) 31.5" (80cm) circular needle
How to take part

You can join the KAL through either:
Ravelry - post a pic of your finished shawlette on the KAL thread in the Under the Olive Tree Knitters Ravelry forum
Instagram - simply tag any progress pics and a finished pic with #chainreactionKAL (feel free to tag me @olivetreejem)

Facebook - join the 'Under the Olive Tree Knitters' Facebook Group and share your pics HERE
Now, far be it from me to be an enabler but should you require any knitting supplies for your new shawl here are some lovely places where you can find lot's of shiny new yarns and accessories...
Fleabubs & Lala has recently launched a beautiful new website where you can find a gorgeous selection of hand dyed yarns on many different bases. For the crocheters among us, Nicola is also the maker of ergonomic crochet hooks, beautifully designed for maximum comfort.
Knitting Needle Lane is a fantastic online shop for all manner of knitting goods and stock is hand picked to bring you the softest yarns and high quality products. Camilla is also a sewing enthusiast and made the fabulous flamingo bag you could win in the KAL. Keep your eye on the website for more designs coming soon!
Crafty Cat Knitty Bits - Deb is the maker of beautiful handmade stitch markers for knitting and crochet, hand dyed yarns, copper shawl pins, hand spun yarns, spinning fibres and other yarn related items you never knew you needed!
---
So are you up for the KAL? I do hope so, but in case you need further convincing I'll just add that the shawl is quick to work up and the pattern is easy to memorise - which makes it ideal for travel, TV, knit-night or gift knitting!
The pattern is also fully supported by video tutorials and you can also learn how to backwards knit (if you wish!)

It's designed to showcase a skein of 4ply yarn (go as wild as you like!) so have a rummage through that stash, or have a browse of the websites above and let's have fun with this - I can't wait to see your creations!