The Beauty of the Rain Shawl has had a Makeover!
Posted on
The Beauty of the Rain Shawl was one of my earliest knitting designs, and it has been given a fresh makeover! It's been re-written to use a 100g / 600m skein of lace yarn with a deeper lace border, and the pattern now includes a handy stitch count checklist and a new video tutorial on adding beads to the bind-off.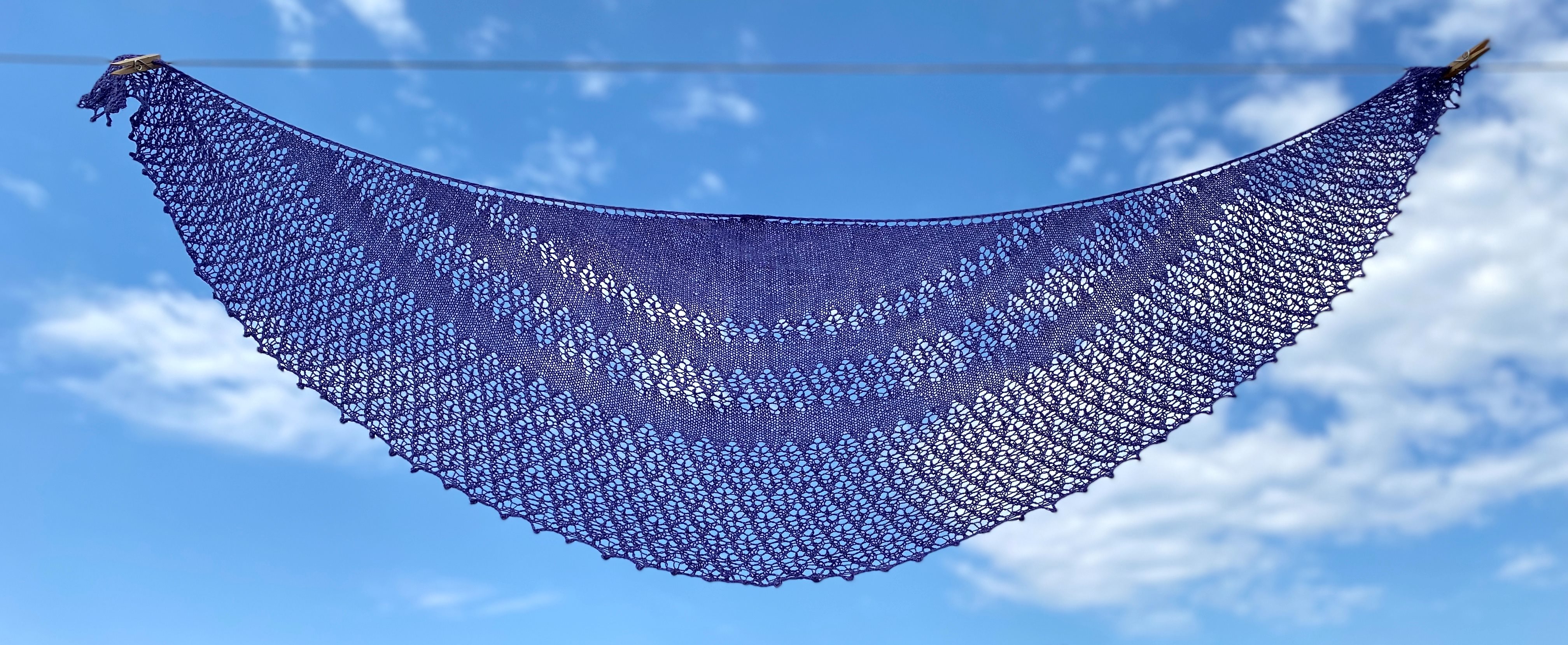 It's a well-known stereotype that us Brits like to talk about the weather. It's always makes for a good topic of conversation because it's so unpredictable and has the ability to scupper our plans for a nice day out at short notice. But I do think that rain sometimes gets a bad rap. Even though rain can darken our skies and cancel our plans at the last minute with its gloomy demeanour, we can't live without it!
The Beauty of the Rain shawl was designed to celebrate the inevitable rainfalls that shower upon us. Whether the rain is predicted or unexpected, literal or metaphorical, there will always be grey days. But these days can offer a chance to take a step back and view things from a different perspective, a chance to try something new, or offer some time-out for reflection and self-care.
Rainy days also make for excellent knitting days ;)
But whatever the weather, this pretty lace shawl will be sure to keep any boredom at bay! Knitted with laceweight yarn, the shawl alternates sections of stockinette with a pretty diamond lace pattern. The lace begins as a thin solitary band, which then expands in the next section, before opening up into a full cascade of lace all the way to the border. Beads sparkle in the centre of each diamond, but the frequency of their placement slowly trickles off as you work your way towards the edge. The picot bind-off also incorporates beads which are suspended like hanging raindrops along the very bottom of your finished shawl.
A handy stitch count checklist is also now provided with the pattern.
Stitches Used – Sl1 wyif, kyok, yo, knit, purl, k-tbl, k2tog, ssk, sl2tog-k1-p2sso, sl1-k2tog-psso, k3tog

Sizes – One size

Measurements – The finished blocked item measures 73" (185cm) wingspan and 22" (56cm) length

Materials
3.5oz / 100g, 656 yds / 600m skein of laceweight yarn. The yarn used in the pattern is Under the Olive Tree Peristera Lace Yarn – 55% superwash BFL / 45% silk in the Purple Velvet colourway
344 x size 8 (3mm) beads – The beads used in the pattern picture are Iridescent Amethyst from Under the Olive Tree Knits
1 x 0.5mm crochet hook for adding the beads
1 x US size 4 (3.5mm) 32-40" (80-100cm) circular needle
55 x stitch markers (optional for marking off the lace repeats)
Gauge: 24 stitches and 38 rows to 4" (10cm) in stockinette stitch after blocking

Download the Pattern from Ravelry

Download the Pattern from the Website
---
Beauty of the Rain Shawl Kit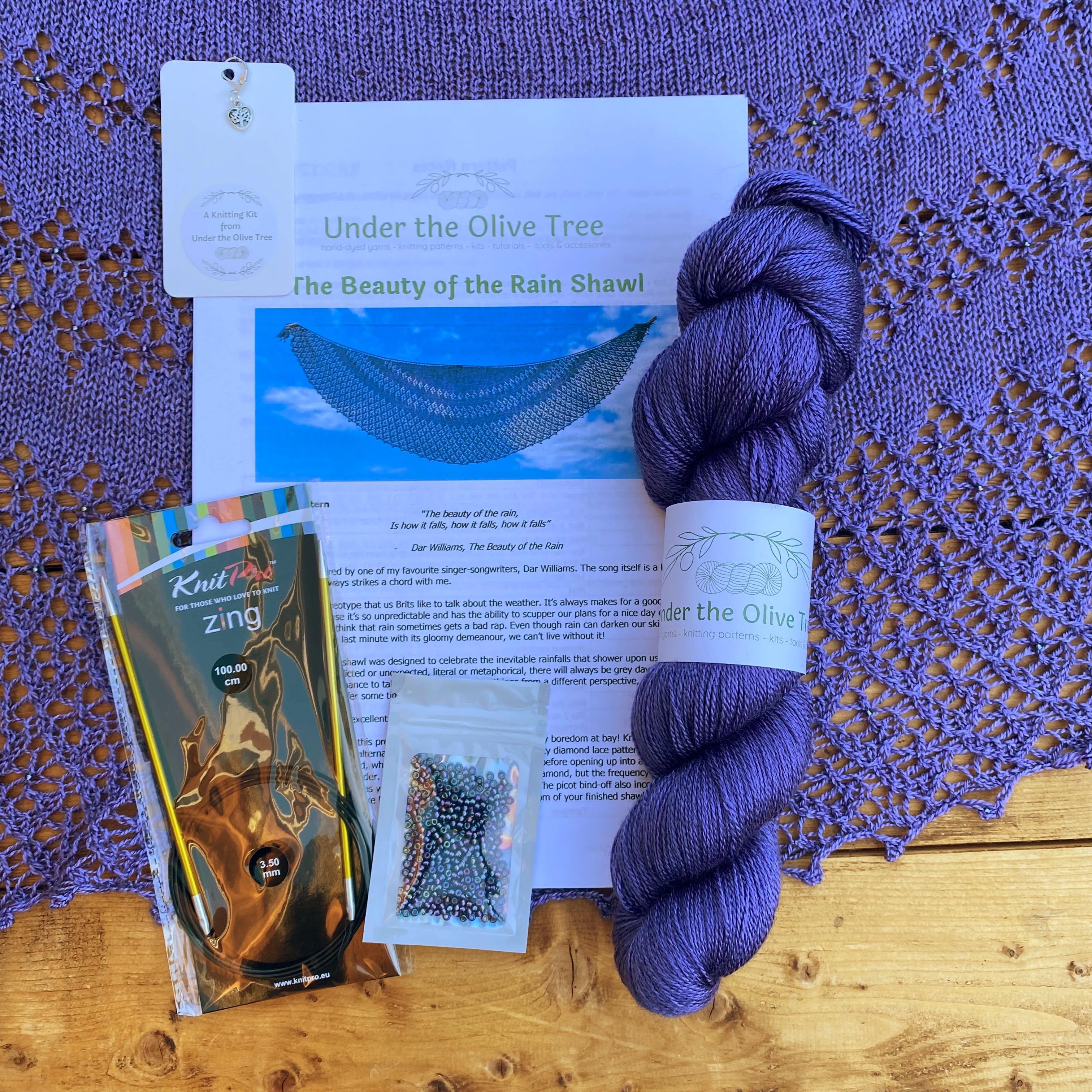 Kits are available for the Beauty of the Rain shawl with everything you need for the project.
The kit includes a skein of Peristera Lace Silk and Bluefaced Leicester yarn (55% Superwash Merino / 45% silk) 600m per 100g skein, a pack of co-ordinating beads and the pattern.
Kits are presented in organza bags and you can add a needle and also a printed copy of the patten. They make great gifts too!
The kits are available in 4 colours with co-ordinating beads. Choose from:
Purple Velvet yarn with Iridescent Amethyst beads (as per the sample photos)

Merlot (dark red) yarn with Plum beads

Steel (silver grey) yarn with Crystal beads

Royal Blue yarn with Capri Blue beads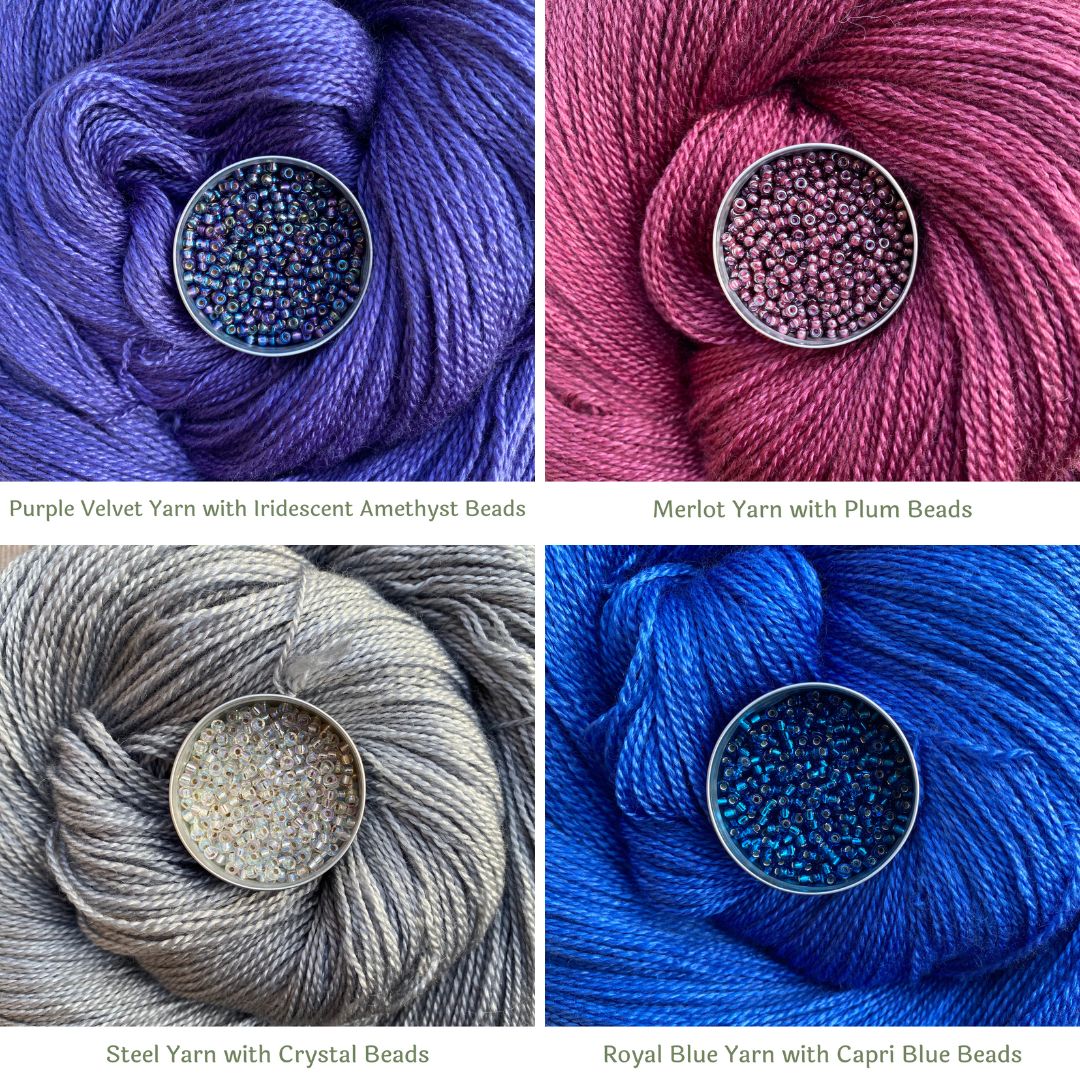 ---
If you have previously purchased this pattern on Ravelry, it will automatically be updated to this new version for you. If you have previously purchased a kit and would like an updated pattern then please drop me an email.