Sign Ups for the Next Skein and Shawl Club are now Open!
Posted on
I am excited to announce that sign ups for the next Skein and Shawl Club are now open!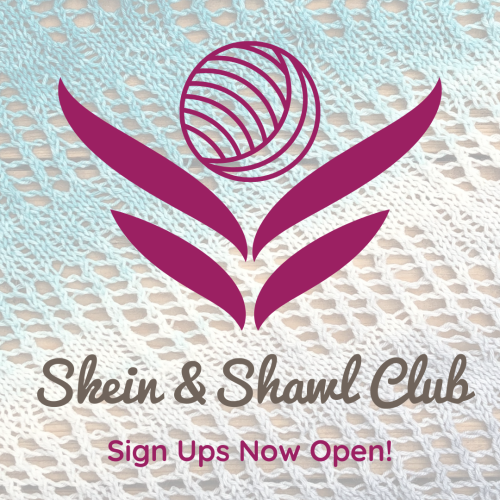 The Skein and Shawl Club is a yarn club from Under the Olive Tree Knits where you can recieve a box of yarny treats including an exclusive pattern, hand-dyed yarn and more!
What's in the Box?
Sign ups for the next Skein and Shawl club are now open and here's what's included in your goody box:
A printed copy of an exclusive 'Under the Olive Tree' Shawl pattern called 'RiverRay'. This is a brand new, 2 skein wrap pattern and will be exclusive to members of the Skein and Shawl Club for 1 month before its official release.

2 x 100g 4ply hand-dyed gradient sock blanks

Extra treats

A free copy of the pattern sent to you via Ravelry or e-mail once it is officially released
Essential Info
Shawl Type: Rectangular Wrap
Shawl Size: The finished, blocked wrap has a wingspan of 71.5" (181.5cm) and a depth of 19" (48cm)
Number of skeins included: 2 x 100g / 425m 4 ply sock blanks (see below for more information on sock blanks and how to use them)
Colourway: Blue and Green gradients
Pattern Instructions: Written and Charted
Stitches Used: Sl1 wyif, knit, purl, kfb, k2tog, ssk, yo
Needle Size: 3.75mm - 80-100cm circular needle
The box includes a printed copy of the pattern, 2 hand-dyed sock blanks in the pattern colourways and some extras too!
Sign ups close on Monday 19th September and Boxes will be posted out from Monday 3rd October
The needle is not included but it can be added as an optional extra.
The pattern has been tech edited and test knitted prior to publication.
What is a Sock Blank?
Sock blanks are pieces of pre-knitted fabric that are dyed by painting on the colour, or dip-dyed to create gradients. Each 100g blank contains the same amount of yardage as a 4ply Chora skein at 425m, and is a blend of 75% Superwash merino and 25% nylon.
How to knit from a sock blank
You can knit directly from a sock blank. Just untie the end attached to the label and unravel the blank as you knit!
Please be aware though that knitting directly from a sock blank will result in uneven stitches until you block them. As the yarn has a memory, when you unravel it it will retain the wavy 'noodle' shape. Knitting these noodles can give your knitting extra lumps and bumps but blocking your piece at the end will help smooth these out and give you a more even finish.
For smoother knitting from the start you can use a yarn swift to transform the sock blank into a skein. This can then be soaked in water and then hung to dry with a weight at the bottom to remove the kinks.
A Note on Colours
Please note that the colours of the sock blanks are most vivid on the surface. As you knit the stitches you will get an overall marbled effect of bright and paler colours.
The gradient sock blanks will be a new addition to the website when this pattern is officially released and retail at £20 each.
What happens after I sign Up?
Sign-ups for the club are open until Monday 19th September and the boxes will be posted out during the first week of October.
>>Sign up for the RiverRay Skein and Shawl Box<<