Did Someone Say KAL Prizes?
Posted on
It's been nearly a week since the launch of Reach for the Stars and I've been blown away with how many knitters have downloaded it already and are joining in the KAL. I'm loving seeing all of the yarn choices and progress pics being posted on Instagram and in the Facebook Group!

In case you missed my last newsletter, or haven't yet got round to downloading the pattern you can get your copy as a free download from Under the Olive Tree Knits or Ravelry until 31st August.
There are KAL Prizes!
Thanks to the generosity of my crafty family, friends and fellow designers there are some wonderful prizes up for grabs in the KAL.
Here's a video in which I show you the prizes, and you can find out more about the lovely people who have kindly donated them! Or take a look below for all the details too.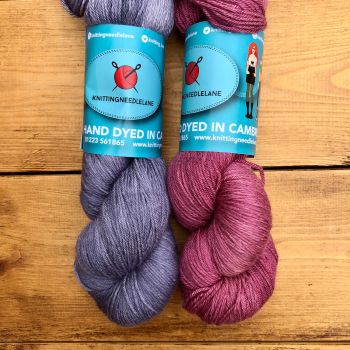 Two, yes two! beautiful skeins of Merino and Silk yarns in Smokey Grey and Soft Berry, hand dyed by Camilla at Knitting Needle Lane. KNL is a fantastic online shop for all manner of knitting goodies and stock is hand picked to bring you the softest yarns and high quality products. You will also find 10 exclusive Under the Olive Tree colourways, which are only available at Knitting Needle Lane! You can follow KNL on Instagram @knittingneedlelane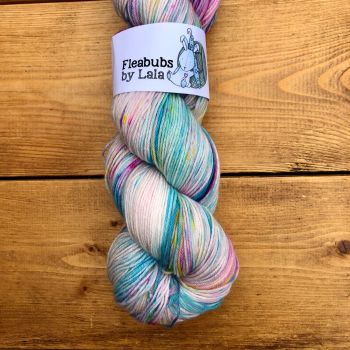 A gorgeous skein of 'Ernold Same' hand dyed sock yarn from Fleabubs and Lala. I am proud to say behind F&B is the talented lady that is my sister :) Check out the website where you can find a beautiful selection of hand dyed yarns on many different bases. And if you like to crochet, Nicola is also the maker of ergonomic crochet hooks, beautifully designed for maximum comfort. You can follow Nicola on Instagram @fleabubsbylala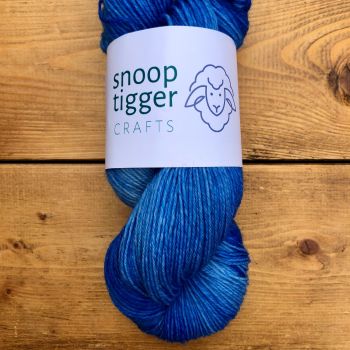 A skein of bright blue Munchkin Country 4ply yarn from Snooptigger Crafts. Snooptigger Crafts is owned by Catherine who is based in Devon in the UK. Snooptigger Crafts started life as a designer and a tech editor. Catherine started dyeing yarn during the lockdown as a way to have some more time to be creative and also to produce the colour in her head that she couldn't find.
Catherine is a huge fan of movies and wanted to share her love of movies through her yarn and the colours she creates. So, all the yarn collections are based on movies that are her favourites. She specialises in being bold and colourful. Her main goal is to make her customers happy with the items that they create with her yarn. You can find Catherine on Instagram - @snooptiggercrafts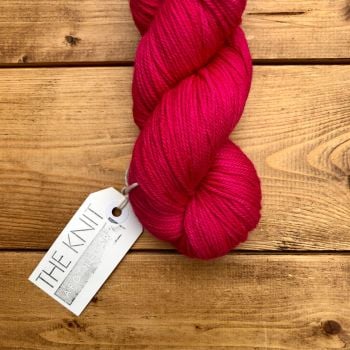 A skein of vibrant pink hand-dyed natural yarn from The Knit Apothecary. The Knit Apothecary offers ethically sourced, 100% natural fiber yarns that are hand-dyed in small batches and limited-edition collections that are hand-dyed with natural, plant ingredients.
Owner Felice says "The Knit Apothecary is a fusion of my love for everything fiber-related with my mission to be eco-ethical. I believe it's important to "make mindfully," which is why I created a line of yarn that respects both animals and the environment. I only use sustainably-sourced, 100% natural fiber yarn bases and a combination of low-impact dyes and natural dye materials to create elegant and timeless color palettes"
You can find The Knit Apothecary on Instagram - @theknitapothecary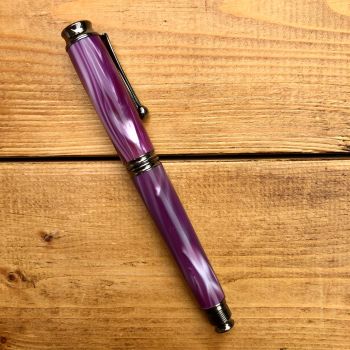 A stunning hand-turned purple acrylic pen made by David from Arrowsmith Turning. David is my husband and when I'm knitting he takes himself off to his 'lathe cave' to make all sorts of wonders including bowls, pens and tealight holders. David has always enjoyed working with wood and discovering techniques to make practical as well as beautiful things with it. He bought his first lathe just under 3 years ago on a bit of a whim and has been hooked ever since.

When David came to show me this pen he had made, the swirly pattern and colour made me think of a galaxy and I thought it would make a perfect prize to include in this KAL. And luckily he agreed! David is on Instagram as
@dave_and_his_lathe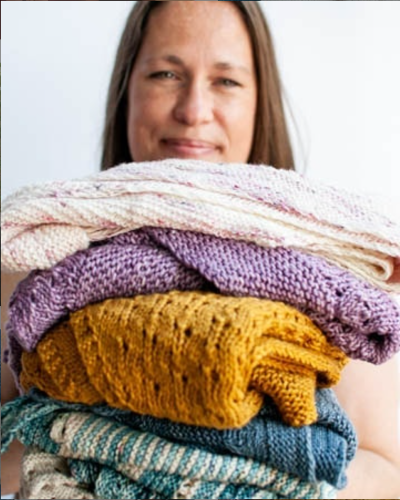 Two winners will receive a pattern download code for an Erineen Designs knitting pattern!

Erin Clayton is the designer—knitwear and graphic—behind Erineen Designs. She creates patterns that are easy to knit and engaging—and helps small business owners create a business they love by utilizing her graphic design background. She grew up in suburban New York but now resides in New Hampshire with her amazing daughter, a needy golden retriever, and 2 fuzzy gerbils. You can find Erin on Instagram @erineendesigns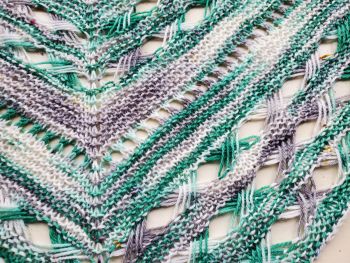 A copy of the pretty 'Cross me Knot' shawl from Jenna, the Fibre Gnome.

The Cross Me Knot Shawl was designed for a skein of fingering weight yarn. The crossed stitches give each color in your variegated yarn a chance to exhibit to the world it's true glory. Let this triangular, top-down shawl be your go to for that precious skein of fingering weight yarn. You will need anywhere from 385 – 425 yards, and the pattern is highly adaptable.

Jenna Hycner, the Fiber Gnome, is a knitwear designer and knitting instructor. Each pattern from Fiber Gnome includes written instructions and video tutorials. You can find Jenna's patterns on Ravelry, her website www.fibergnome.com and on Instagram @thefibregnome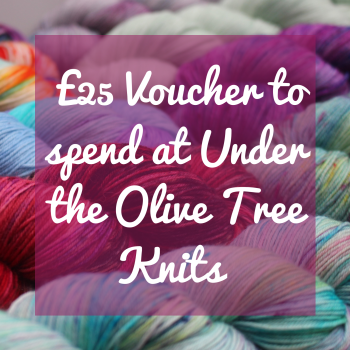 I'm sure you will agree they are all fantastic prizes and a big THANK YOU to Camilla, Nicola, Catherine, Felice, David, Erin and Jenna!
The KAL is running on Instagram, in the Under the Olive Tree Knitters Facebook Group and on e-mail. To be in with a chance of winning simply post a picture of your finished shawl on either:
Or e-mail a picture of your finished shawl to

[email protected]
The KAL will run until 31st August 2021 and the pattern will be available as a free download for the duration. The prize draw will take place on 1st September. Good luck!