Handy New Tools for Your Project Bag!
Posted on
I've been busy working on some new Knitting products for the website and I'm pleased to share them with you today!

Kitchener Stitch Fob

Now I don't know about you, but no matter how many pairs of socks I knit, I always have to look up how to work the Kitchener Stitch when it comes to closing the toe. So here is the Kitchener Stitch reminder fob!

If you're not familiar with Kitchener Stitch, it is a sewn bind off used to graft the 2 sets of live stitches together. It can be used in many projects and is often used to close the toes on top down socks.

This sock shaped fob acts as a reminder on how to work the bind-off as there are a few steps involved. A full video tutorial on how to work the Kitchener Stitch can be found here

The fob is made from sturdy plywood and is a really useful tool to have in your project bag, you can clip it to the zip or just keep it handy in your notions pouch so it's there exactly when you need it.
Shop for the Kitchener Stitch Reminder Fob
Reminder Stitch Markers
Have you ever started a reversible project and forgotten which is the Right Side? Or worked on a project with lots on increases and decreases to keep track of?
This collection of 7 'Reminder' stitch markers are super handy to have in your project bag. They can be attached to your knitting and are particularly useful when knitting garments or items that involve shaping as you can place the relevant markers at the sides of the work to remind you where to make your increases and decreases.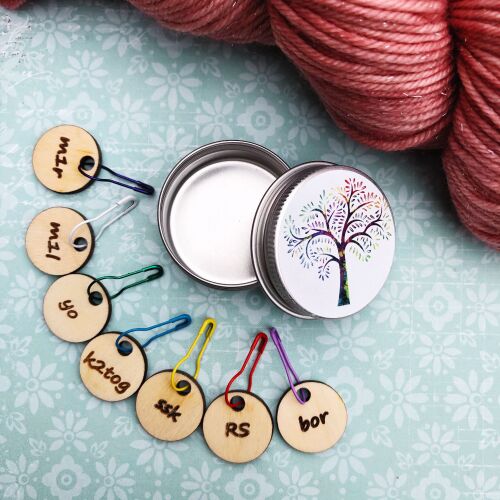 The markers come with a lightbulb clasp so you can easily attach and detatch them to your work to mark certain actions. And as they are made from sturdy but light plywood with a hand-sanded finish, the markers will not snag or tug on your stitches.
The abbreviations are:
bor - beginning of round

RS - Right side

m1l - make 1 left increase

m1r - make 1 right increase

yarnover increase

k2tog - knit 2 together decrease

ssk - slip, slip knit decrease
As with all UtOTK stitch marker collections, these come presented in a pretty little tin for storage.
Shop for the Reminder Stitch Markers
I'm working on a few more products for the shop so do make sure you are signed up to the newsletter (form below) to be the first to know when they are released!
Until next time, Happy Knitting!