New Pattern! The Sparkling Spruce Shawl
Posted on
My new shawl pattern, the Sparkling Spruce Shawl is now available to download from the website, Payhip and Ravelry!

About this Pattern
A night-time walk through a city during the holiday season is one of my favourite things to do. There is something so magical about holiday lights that glitter in the the shop windows and light up the streets. I love the surprise of turning a corner and getting my first glimpse of a big, sparkling tree standing in the centre of the square. The tree not only lights up the sky, it lights up my heart.
Sparkling Spruce was designed to capture that magic. The body of this top-down crescent shawl is worked in reverse stockinette, making this good social or TV knitting. Triangles of beaded lace are then worked along the bottom. Go traditional and use all white or clear beads, or be merry and choose several colours. With a touch of ribbing and eyelets, stout trunks are added to the final rows, revealing that these triangles are indeed decorated trees. To celebrate the season with this cheery shawl, choose a 100-gram skein of 4-ply yarn in a solid colour to let the lace and beads stand out.
The pattern is written to match the sample pictures, with a 3-colour bead pattern. However, if you want to try out some different combinations for your tree, there is a blank chart provided in the pattern that you can use to create your own beaded colour scheme.
A video tutorial on how to add beads with a crochet hook is provided in the pattern, and a handy stitch count checklist is also provided to help you keep track of your progress.
For full details of the pattern including sizing and materials, click HERE
---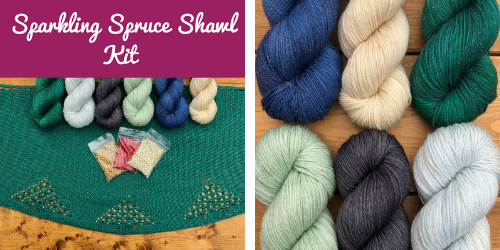 Customisable kits
for the shawl are available to purchase. And when you purchase the kit you get the pattern for free!
What's in the Kit?



Each kit comes with a full 100g skein of 4ply sock yarn in a colour of your choice. Choose from any of the colours in stock or pick your favourite colour from any of the 50+ custom dye colours available!

You also get to create your own colour combination of bead baubles. Choose a mix from Gold, Silver, Crystal, Ivory, Red, Blue or Green.



To complete your kit you can add a 3.75mm KingPro Zing circular needle if required. Kits come in an organza bag and make great gifts either to yourself or a knitting friend!



Click HERE to purchase a kit
---
The pattern has been professionally tech edited by James Bartley and was tested by a fantastic group of test knitters too!


Thank you Doug, Tori and Yvette.
Doug is actually making another version using a Double Knit yarn, I can't wait to see how it turns out!
Thanks for stopping by, I hope you like the new design - don't forget if you aren't already signed up to my newsletter, you can sign up using the form below and get 20% off this pattern!
Thanks for stopping by, Happy Knitting!