Join the Stargazer KAL You Could be a Lucky Winner!
Posted on
It's been a week since the launch of Stargazer and I've been blown away with how many knitters have downloaded it already and are joining in the KAL. I'm loving seeing all of the yarn choices and progress pics being posted on Instagram and in the Facebook Group!
In case you missed my last newsletter, or haven't yet got round to downloading the pattern, you can get your free copy from the Under the Olive Tree Knits website and Ravelry.
We Have Prizes!
Thanks to the generosity of my crafty family, friends and fellow designers there are some wonderful prizes up for grabs in the KAL.

Take a look at what you could win!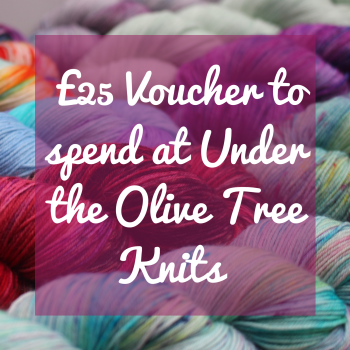 £25 to spend on whatever you wish at www.undertheolivetreeknits.com

Choose from a range of hand dyed yarns on many different bases, or create your own custom dyed yarn. You could also create your own knitting kit from one of the many patterns available!
---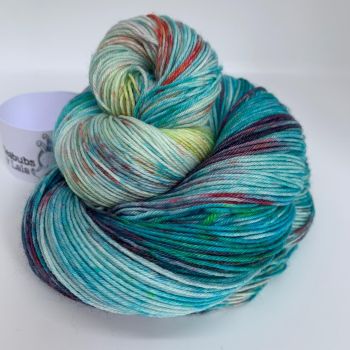 A gorgeous skein of 'Time to Pretend' hand dyed sock yarn from Fleabubs and Lala. I am proud to say behind F&B is the talented lady that is my sister :) Check out the website where you can find a beautiful selection of hand dyed yarns on many different bases. If you like to crochet too, Nicola is also the maker of ergonomic crochet hooks, beautifully designed for maximum comfort. You can follow Nicola on Instagram @fleabubsbylala
---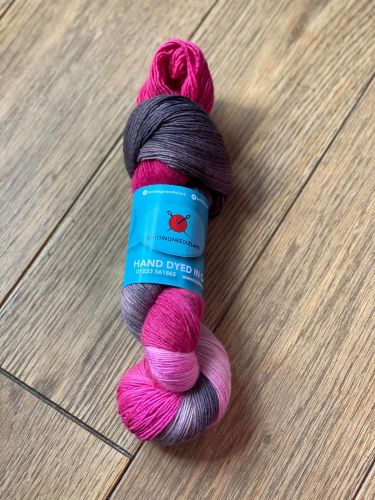 A beautiful skein of 'Dip Dye Dreams' Fine Merino yarn, hand dyed by Camilla at Knitting Needle Lane. KNL is a fantastic online shop for all manner of knitting goods and stock is hand picked to bring you the softest yarns and high quality products. Be sure to follow KNL on Instagram @knittingneedlelane and keep your eye out for a special Stargazer offer coming in August!
---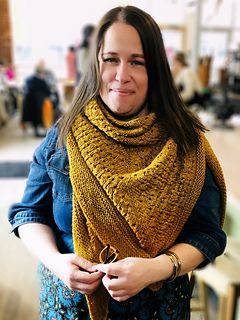 A pattern of your choosing from Erineen Designs (this link will take you to Ravelry)
"My mission is to help knitters build a wearable knitwear wardrobe. I create designs that are easy to knit yet engaging, that are a pleasure for the knitter to work on and that leaves them with a piece that will fit into their wardrobe. I design timeless pieces that can be reached for over and over and that will fit into wardrobes for years to come."

You can follow Erin on Instragam @erineendesigns
---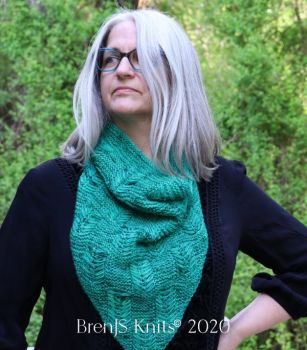 A pattern of your choosing from designer Brenda Schack.

Brenda is the one woman do-it-all behind BrenJS Knits. Her accessory patterns are inspired by her love of family and textures. Recently, she incorporated brioche stitches into her designs. Brioche knitting seems to intimidate so many knitters, so her solution was to use it as an element in her designs instead of all over the accessory. She says "It's a thrill to convert knitters who were afraid of brioche into brioche lovers". For Brenda, a good pattern must provide a good experience for the knitter.

You can find Brenda on Ravelry and on Instagram - @brenjsknits
---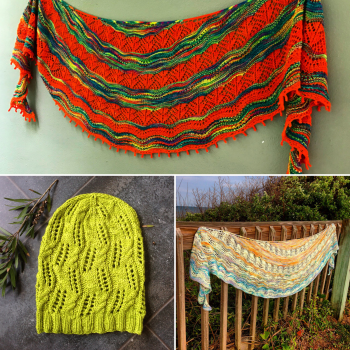 A pattern of your choosing from Paula King of KraziKnitz Designs (this link will take you to Ravelry)

Paula is a Florida native who finds most of her design inspiration from nature. She resides on Florida's Space Coast with her husband. She also teaches and does social media for her LYS.
You can find Paula on Instagram @kraziknitz
---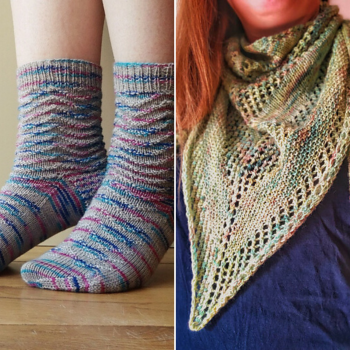 A sock or shawl pattern from designer Catherine Whelan of Snooptigger Crafts.
"Hi, my name is Catherine and I live in Devon, UK. I spend a lot of my time geeking out about films. I especially love how you can create items whilst watching films.
I hope to create designs that produce a hug to anyone who creates them. I tend to love items which are fairly mindless with a little bit of interest so your mind can take a break from the world around you but not make you bored. When I'm not creating designs, I'm tech editing them, to make sure that other designers have a great pattern for you to make"
Catherine can be found on Ravelry and Instagram @snooptiggercrafts
---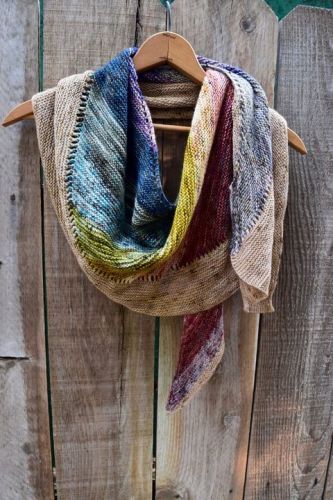 A copy of the beautiful 'Color Riot' shawl by designer Sierra Kreun of All Knit Up Designs.

"Hi! My name is Sierra, I'm the sole owner and designer behind All Knit Up Designs. My goal is to great fun, repetitive, social knitting designs; designs you can knit out and about, with family, or with friends at knit night"

You can view full details of the pattern on Ravelry
https://www.ravelry.com/patterns/library/color-riot

Sierra is on Ravelry as All Knit Up Designs and Instagram as @allknitup
---
I'm sure you will agree they are all fantastic prizes and a big THANK YOU to all of those that have donated.
---
If you want to take part in the KAL - here's how!
The KAL is running on Instagram, in the Under the Olive Tree Knitters Facebook Group and on e-mail. To be in with a chance of winning simply post a picture of your finished shawl on either:
Or e-mail a picture of your finished shawl to

[email protected]
The KAL will run until 31st August 2020 and the pattern will be available as a free download for the duration.
---
Until next time, happy knitting!