Free Purse Knitting Pattern!
Posted on
The Diamond Lace purse is now available for free on Ravelry and on the website.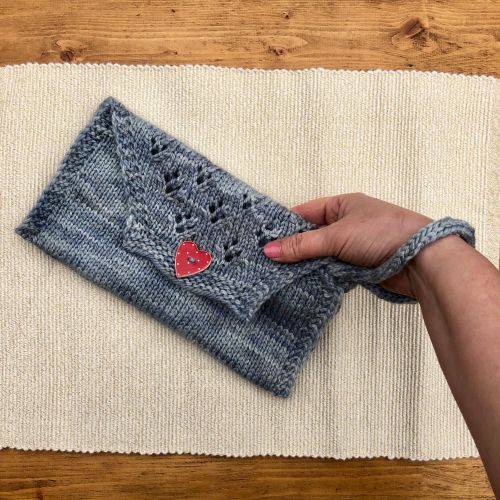 This cute little clutch purse is the perfect accessory – big enough to hold your essentials and small enough for a quick knit project. You could even use it as a little project bag to hold your smaller knitting projects!

The pattern is designed for beginner knitters looking to try some new techniques such as increases, buttonholes and a simple lace pattern. Or if you don't fancy the lace you could knit the front flap without the lace pattern, or maybe use a contrast colour for a really striking look!

The purse in the pattern photo was knit using a chunky yarn, although you could use any weight. The trick is to go down a few needle sizes to what you would usually use with the yarn weight so as to produce a nice sturdy fabric with tight stitches that will hold the shape and not be too flimsy.

The purse is cast on at the flap edge and worked as one flat piece with garter stitch rows used to mark the folding lines. The edges are then sewn together at the end and a pretty button added for a final flourish!

The I-cord wrist strap is optional. Video tutorials for the I-cord, the buttonhole and all of the stitches used are available on the website and linked in the pattern.

The purse is easy to customise to make it longer, or make it into a shoulder bag, details are given in the pattern.

For more information and to download the pattern, visit the Free Patterns page