New Knitty Bits Added to the Shop!
Posted on
I've been having fun this month putting together some new collections of stitch markers for the shop, and I'm also excited to share with you a new addition of hand-turned olive wood bead bowls!
Stitch Markers
Our original tree themed markers have been given a makeover and now include 6 different designs with a mix of rings and clasps.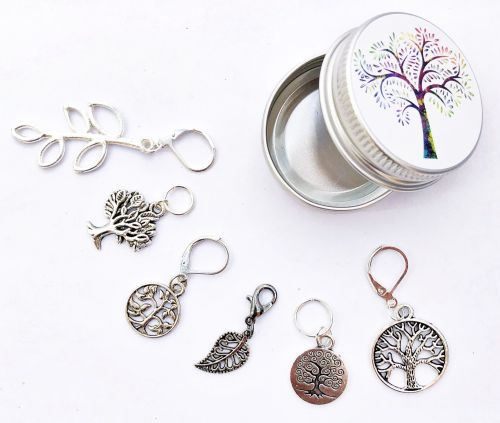 Hot off the paws of the What's New Pussycat release this month is this new addition of kitty inspired markers - purrfect for any knitting project!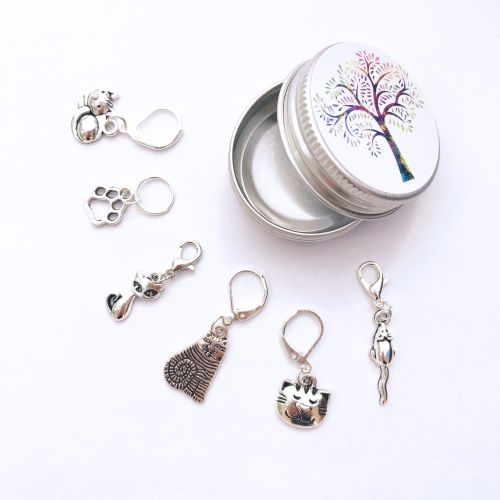 It's a holiday in a tin! Pack up your tiny suitcase, don your tiny sunglasses and board your tiny plane with your tiny passport! Get your knitting beach ready with these summer themed markers. Featuring 12 summer inspired charms these tins are available in tins of 6 or 12 with a mix of rings, clasps and lockable pins.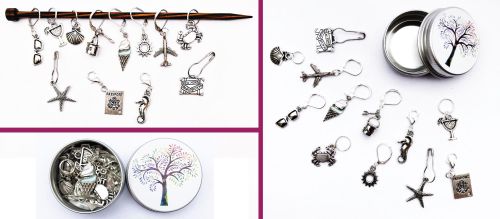 Bead Bowls

Keep your beads in order with this beautiful olive wood bowl!

Hand turned by my talented husband David at Arrowsmith Woodturning these unique bead bowls are ideal for storing beads or stitch markers.
The compact handturned olive wood bowl has a swivel action lid which closes tightly and stops any beads escaping all over the floor!
Olive wood has a highly variable grain and therefore each one will have its own unique pattern. Sanded smooth and finished with high quality wax with a pretty tree design - or a message of your choice engraved on the lid, these bowls can be made to order and would make a wonderful gift for any knitter, or why not treat yourself?
Stay tuned for more shop updates over the next few weeks!