Free Pattern and Summer Knitalong!
Posted on
Download the Free 'Bring me Sunshine' Shawl Pattern and Join the Knitalong this Summer!
It's here! The Bring Me Sunshine shawl is now available as a free download from the website and Ravelry or by using the links below.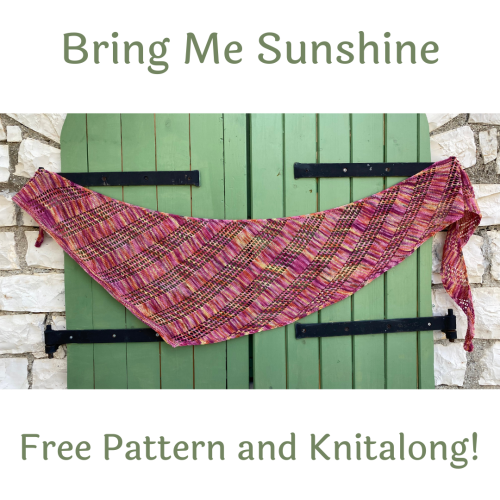 About the Pattern
Named after the famous Morecambe and Wise Song, Bring Me Sunshine is a simple shawl that has been designed to make the most of a pretty skein of yarn (or two!). The joy of this pattern is that it has easy-to-memorize stitches which quickly fall into smooth rhythm, and you can very easily adapt it to make a larger two skein version if you like your shawls a bit bigger.
An asymmetric triangle pattern in shape, as you knit your shawl, parallel tracks of stockinette stitch and a simple 'yo, k2tog' lace stitch grow side-by-side to create 'rays' of colourful stitches, allowing your yarn to truly shine! The pull of the lace pattern also distorts the angle of the stitches so you end up with an almost zig-zag effect of colours which works brilliantly for colourful, variegated yarns.
If you are new to knitting lace, this shawl would be the perfect opportunity to give it a try. Using just yarnover and k2tog stitches to create the lace, each section is worked between markers so you can easily keep count of your stitches. A video tutorial on how to work the 'yo, k2tog' stitch combination can be found here https://www.undertheolivetreeknits.com/lace-stitches.html. And there are also some handy hints and tips included in the pattern that will help you 'read' your stitches and stay on track!
There is a Knitalong happening with prizes too! Read on for more details...
Pattern Information
Stitches Used – Sl1 wyif, knit, purl, kfb, yo, k2tog, 'yo, k2tog' lace stitches
Sizes – One size
Measurements – The finished, blocked item has a wingspan of 77.5" (196cm) and a depth of 18" (45.5cm)
Materials
• 437-464yd / 400-425m, 3.5 oz / 100g 4 ply, sock or fingering weight yarn. The yarn used in the pattern pictures is Under the Olive Tree Knits Chora sock yarn, 75% merino / 25% nylon in the Arizona Sundown colourway
• US size 5 (3.75mm) 32" (80cm) circular needle
• 8 stitch markers (extra stitch markers will be required if you make a larger shawl)
• 1 tapestry needle for weaving in the ends
Gauge: 22 stitches and 33 rows to 4" (10cm) in stockinette stitch after blocking
---
Thank you Test Knitters!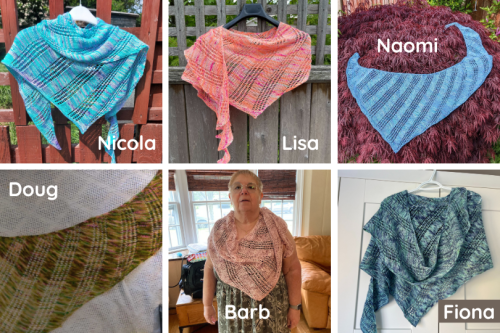 The pattern has been professionally tech edited by Julia Targett and was tested by a fantastic group of test knitters too!
Thank you Barb, Doug, Fiona, Lisa, Naomi and Nicola!
Want to go large?
This pattern is really simple to adapt to make a 2, or even 3 skein version if you wish! Fiona did just that with a 2 skein version which you can see here. Details are provided in the pattern.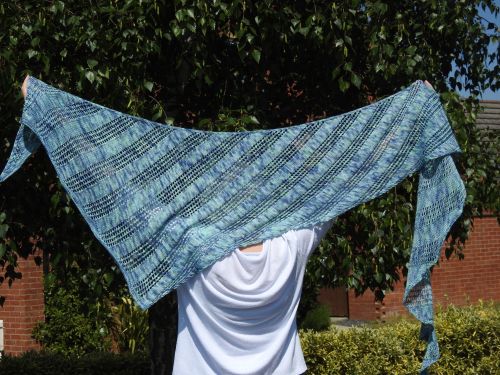 ---
Need Some Yarn Inspiration?
This pattern will work with any skein of 4ply sock yarn at 400+ metres. There plenty to choose from on the website including the 2 colourways used for the sample shawls. Click on the photos to find out more.
Arizona Sundown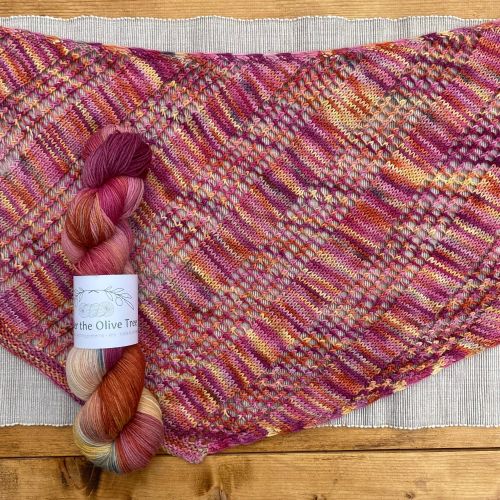 A pretty mix of Sunset reds and pinks with sandy yellows and dusky greys
Summer Nights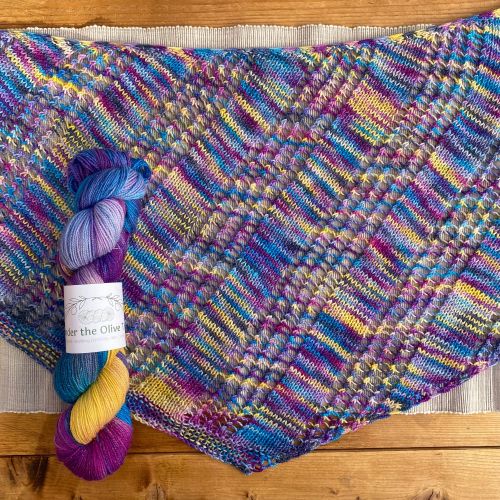 A vibrant mix of sunshine yellows, sky blues and pops of purple on a shimmering sparkle base
'Choose Your Colour' Kits are available too! You can choose your favourite sock or sparkle yarn from any available in the shop and add a printed pattern, a needle and stitch markers too!
Create a Bring Me Sunshine Shawl Kit
---
Join the Bring me Sunshine Knitalong this Summer!
The KAL will run until 31st August 2023 and the pattern will be available as a free download for the duration.
There are some fantastic prizes waiting to be won including:
Hand dyed yarns from Lunar Lane Yarn, Bluefern Yarns and Woolly Chic

A £25 voucher for Under the Olive Tree

Patterns from Erineen Designs

A hand turned yarn bowl from Arrowsmith Woodturning

One more prize to be announced!
Full details of the prizes and the talented creators behind them will follow in the next newsletter.
The Knitalong will run on Instagram, The Under the Olive Tree Knitters Facebook Group and via Email. To be in with a chance of winning make sure you post a picture of your finished shawl either on:
Instagram - tag @olivetreejem and use #bringmesunshinekal
Facebook - Post a photo in the Under the Olive Tree Knitters Facebook Group
Email - send a photo of your finished shawl to [email protected]
Each post of a finished shawl will count as an entry so if you post on all 3 platforms then you will have 3 entries in the prize draw! The draw will take place on 1st September
Finally, here's a little video about the shawl and the Knitalong!
I hope you enjoy this free pattern and I look forward to seeing your Bring me Sunshine Shawl in the KAL :)