Knitting and Crochet Journals!
Posted on
There are a couple of new additions to the website this week - meet the new Knitting and Crochet Project Planners!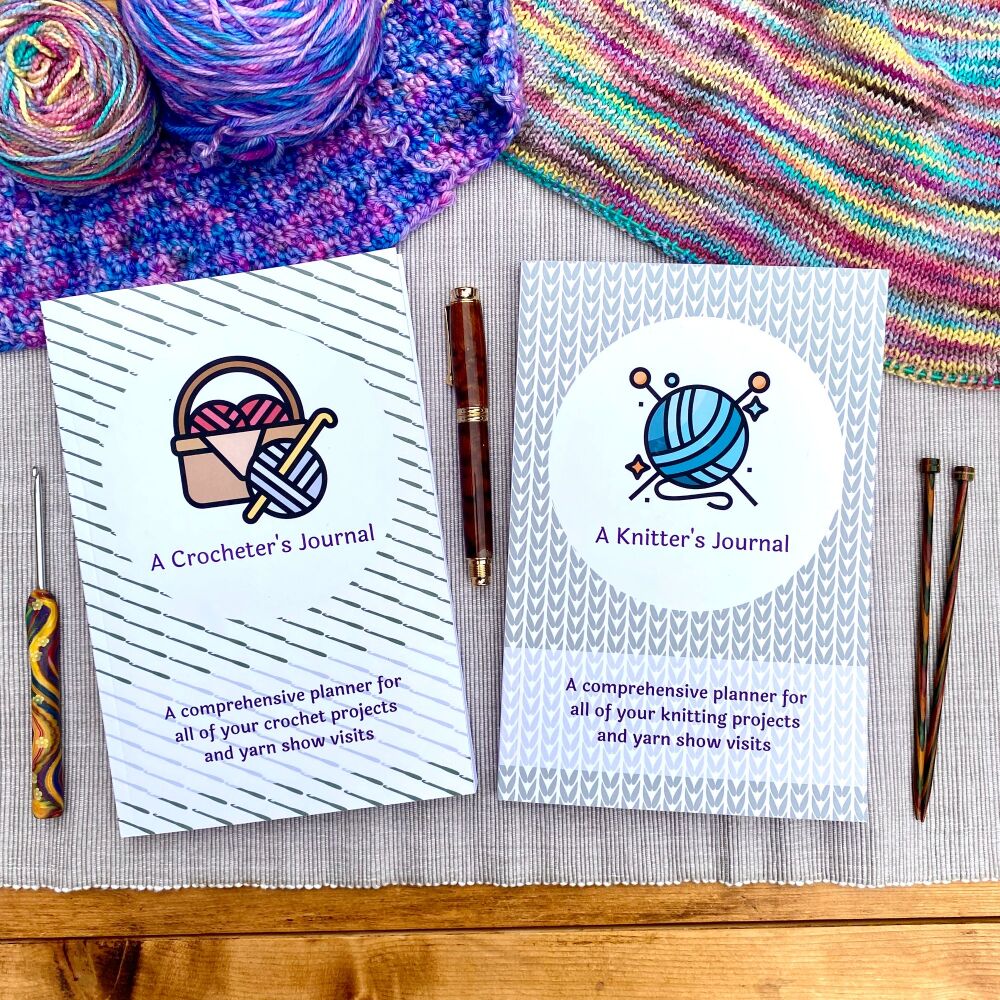 Keep track of all your knitting or crochet projects with this handy planner, journal and tracker - it also includes a Yarn Show planner!
Do you often have multiple projects on the go at once? Do you wish there was an easy way to keep track of them all AND have a final record that you can reference if you decide to make the same project again?
As a knitter, I've tried many different systems to try and keep track of my projects, from post-it notes to spreadsheets. But what I really needed was something that I could keep handy in my project bag that would not only serve as a complete Project Tracker but also as a record of all my past makes.
And so these journals were created.
These trackers makes it easy to keep all of your essential project information at your fingertips. With space for 40 projects you can document the pattern source, yarn details, needles, notions, sizing and start / finish date. There is also a handy 'Project Summary' section where you can give your finished project a star rating and note any important information which may be useful if you decide to make the project again.
As a regular attender of yarn shows, I've included a handy Yarn Show planner too to help you get organised ahead of the event and have a plan of exactly what projects you want to purchase for and how much you want to spend.
This journal also includes handy reference sheets for yarn weights, fibres and gauges, and an 'at-a-glance' sheet of common abbreviations.
Planning a trip? There's a section where you can record details of each yarn shop you want to visit along the way.
At the back of the book you'll find graph paper which you can use to write out your own charts or to draw out different colourwork ideas.
And there is plenty of space for your own notes and sketches too.
This journal would make an excellent gift for any knitter or crocheter!
At a Glance
The journals include...
- Useful Reference Sheets for yarn weights and fibres
- Project Wishlist: When you come across patterns that you want to make, add them to your project wishlist!
- Pattern Tracker Pages: Use these pages to keep a record of your WIP's from start to finish. There is space for 40 projects!
- Yarn Show Planner: Get organised for your next yarn show, list your 'must see' vendors and keep track of your budget
- Yarn Shop Planner: Planning a trip? Uses these pages to list the yarn shops you would like to visit on your travels
- Graph Paper: Chart your own designs or colourwork ideas
- Extra pages for your notes and sketches
The journals are available to buy on the website here: https://www.undertheolivetreeknits.com/ourshop/cat_1807672-Knitting-and-Crochet-Project-Journals.html