Yarn of the Month - Maydream - Shop
livepages::jquery();?>
Yarn of the Month - Maydream
Meet the Yarn of the Month for May.
This colourway was inspired by a photo sent to me from my friend Julia of some peonies and lupins in her garden.
Maydream is a dreamy, subtle colourway of soft pinks, pale blues and pretty purples.
This pretty yarn is available on 2 different bases:
Chora Sock - 75% Superwash merino / 25% nylon at 425m per 100g skein.
Steni Vala - 50% Superwash Merino / 50% silk at 400m per 100g skein.
This yarn would be a lovely choice for a summer project, maybe a light summer top, or a pretty shawl for the upcoming season.
One skein of the Chora base would be enough for any one skein shawl project, including the new Bring Out the Bunting shawl pattern. There are plenty of pattern kits to choose from, take a look here - https://www.undertheolivetreeknits.com/ourshop/cat_1467839-Sock-4-ply-Yarn-75-Superwash-Merino25-Nylon.html
The Steni Vala base is also available as an option for any of the 'Shades of...' shawl kits, until the end of May. Take a look at the patterns here - https://www.undertheolivetreeknits.com/knittingpatterncollections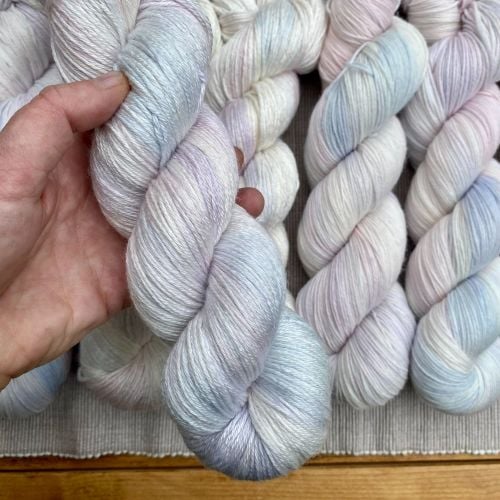 This colourway is available as a limited edition yarn until 31/05/23.
Products In This Category:
Showing 1 - 1 of 1 results